Bright, glowing skin is just one step away thanks to this homemade yogurt body scrub! Formulated with gentle, all natural ingredients, this super simple body scrub only requires 4 ingredients to completely transform your skin! Say bye bye to rough spots and bumps, and hello to smooth, silky skin!
So why is this homemade yogurt body scrub SO good?
It's all in the ingredients of course!
Yogurt contains lactic acid which dissolves dead skin cells and tightens pores all at the same time. This means softer skin and less obvious pores. Yogurt is also super gentle and acts as a natural skin cleanser, so it's great for all skin types!
Olive oil is amazing at hydrating dry, parched skin, plus it also helps with scars and cellulite by gently reducing their appearance.
Honey has anti-microbial and anti-bacterial properties which cleanse the skin and prevents any bumps or breakouts from forming.
Sugar is the exfoliating element here and will gently slough off dead skin cells revealing softer, younger looking skin!
Homemade Yogurt Body Scrub Recipe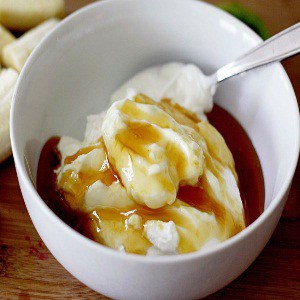 You'll Need:
1 tbsp plain yogurt
1/4 cup olive oil
1 tsp raw honey
3 tbsp granulated sugar (white or brown can be used)
Directions:
In a small bowl, combine all ingredients together.
Scoop into a clean, airtight jar or container.
Grab a handful while in the shower and scrub onto wet skin in slow, circular motions.
Focus on tough and rough body parts such as feet, knees, elbows, and shoulders.
Rinse off and pat dry.
Repeat once or twice a week for super soft, glowing skin.
Like this post? Share and Pin 🙂