For those with sensitive skin, it can be hard to find the right lotion to calm and soothe the skin, but this homemade calming lotion with lavender will seriously surprise you! A simple and all natural 3 ingredient lotion, this homemade concoction will calm, sooth, and heal sensitive and irritated skin. No artificial dyes, no preservatives, and no alcohol, make this lotion the perfect soother!
Homemade Calming Lotion With Lavender Recipe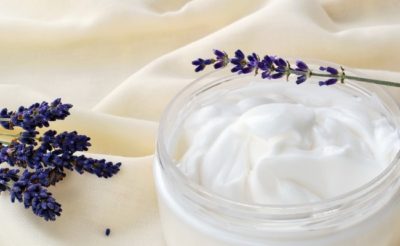 Lavender is one of the most relaxing and soothing essential oils, as well as one of the most versatile essential oils. If you love making homemade lotions and potions, you definitely NEED lavender essential oil in your arsenal. Lavender oil contains over 400 compounds, so no wonder it's one of the most useful of essential oils!
Ingredients:
1/3 cup coconut oil
2 tbsp beeswax pastilles
5 drops lavender essential oil
Directions:
In a double boiler or in the microwave, melt the coconut oil and the beeswax pastilles.
Remove from heat and add the essential oil. Stir again.
Use an electric beater to whip the lotion (although you may skip this step if you want). The whipping will give the lotion a smoother consistency.
Scoop the lotion into a clean, airtight jar or container.
Use as you would any other lotion!
If you like this post, don't forget to share 🙂