We've officially fallen in love with this homemade dark chocolate lip scrub! This lip scrub smells SO incredible, you'll seriously want to eat it (and you totally can!). Made with real dark chocolate and natural oils, this homemade dark chocolate lip scrub will exfoliate dry, chapped lips, and give them a boost of hydration.
Homemade Dark Chocolate Lip Scrub Recipe
When we first stumbled upon this recipe, we couldn't wait to try it out! Just the mention of chocolate alone was enough for us to run to our cupboards and try this recipe out! The homemade dark chocolate lip scrub was VERY reminiscent of Lush's chocolate lip scrub, so you can definitely call it a Lush dupe!
So here's how to make this downright delicious homemade dark chocolate lip scrub right in your home!
You'll Need: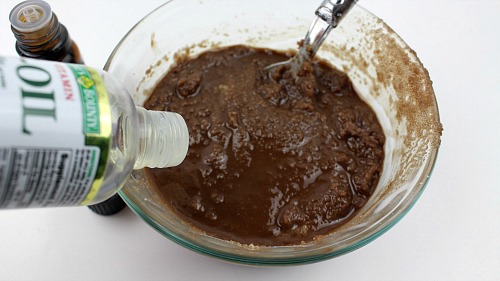 6 tbsp granulated sugar
4 tbsp coconut oil
1 square dark chocolate (if it contains sea salt, bonus!) – grated
1 tsp Hershey's dark cocoa
1/2 tsp coconut extract or flavoring
2 drops vitamin E oil (optional)
Directions:
In a medium size bowl, mix the sugar with the coconut oil.
Add the grated chocolate and the dark cocoa to the bowl and mix again.
Now add the coconut extract and the vitamin E oil (if using). Mix well.
Store in an airtight container.
Will last for up to three months.
Usage:
Use twice a week to get super soft lips. Simply rub a small amount directly onto your lips using your finer. Rub on slow, circular motions for about 30 seconds and rinse off (or lick off!). Follow up with a lip balm or coconut oil.
If you like this post, don't forget to share 🙂