If you suffer from regular headaches or migraines, this homemade headache balm may just help alleviate those painful throbs with just 3 simple ingredients! Made with organic, all natural essential oils, this homemade headache balm uses oils that have been tested and proven to reduce headaches and even migraines. So before you reach for that Advil, why not give this headache balm a try and see if it works for you?
Homemade Headache Balm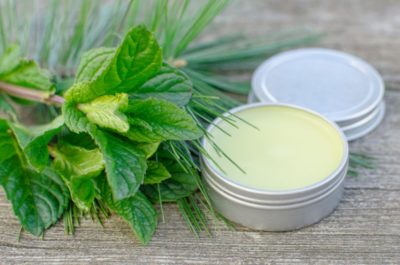 Ingredients:
Note: Try to buy your essential oils from a reputable source or choose a good brand, such as doTerra. The more pure they are, the better they will work. We also recommend that you purchase 100% organic essential oils.
Directions:
Melt coconut oil in a double boiler over low heat.
Remove from heat and gently stir in essential oils.
Pour into a clean, airtight container, and let it sit for about an hour or so or until it cools before covering.
Once cooled, you can cover and place in the fridge or leave it at room temperature.
We do love keeping this homemade headache balm in the fridge though as it provides a really nice cooling effect on your temples!
Why This Works:
Lavender Essential Oil naturally calms and soothes the body, therefore alleviating pain.
Peppermint Essential Oil is often used in headache formulas to soothe, calm, and minimize pain.
Frankincense Essential Oil promotes relaxation and will also alleviate pain.
How to Use:
Grab a small amount with clean fingertips and gently massage onto temples or back of the neck in slow, circular motions. This homemade headache balm can also be used everywhere else on the body to moisturize, soothe, and relax.
Like this post? Share and Pin 🙂