Looking for an absolutely scrumptious, heavenly smelling sugar scrub? Look no further than this homemade key lime pie sugar scrub cubes which will leave skin smooth and glowing – not to mention you'll smell like key lime pie, and who doesn't want THAT?! This recipe uses only natural ingredients that are good for your skin, which is just so much better than store bought scrubs which are often loaded with preservatives and artificial ingredients.
Homemade Key Lime Pie Sugar Scrub Cubes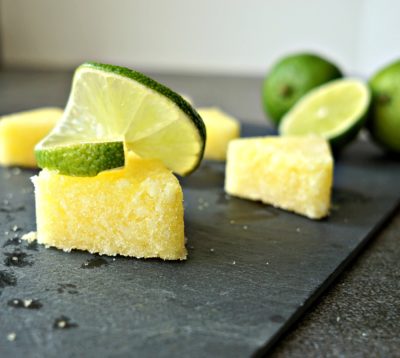 Source: Themakeupdummy
Ingredients:
Directions:
In a double boiler, melt the grated soap and coconut oil. Stir well until melted.
Remove from heat, and stir in lemon or lime essential oil. Add as many drops as you like until you get the desired scent!
At this point, you can add a drop or two of yellow soap coloring.
Now, add the sugar and stir well.
Pour into molds and press down firmly.
Let the cubes harden at room temperature, or, if you're impatient, you can put them in the fridge.
Use one cube per shower and rub the cub onto the body to exfoliate and leave skin looking and feeling nice and soft!
Like this post? Share and Pin 🙂