Pineapples are not only deliciously healthy fruit, but they're also packed full of antioxidants, vitamins, and minerals which can do wonders for the skin. These 5 DIY pineapple face masks are great for all skin types as they control oil production, hydrate, prevent breakouts, and leave skin glowing! Pineapples contain an active enzyme called bromelain which is considered as the key exfoliating agent in pineapple. Bromelain also helps to reduce swelling and inflammation. Pineapple also fights against free radicals and keeps skin soft and hydrated, so let's check out these 5 DIY pineapple face masks!
Pineapple Skin Benefits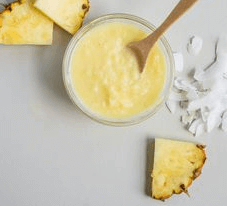 Before we go ahead and jump into the pineapple masks, let's take a quick look at the benefits of pineapple for the skin. Pineapple juice is not just for drinking – it can do wonders for your face!
Treats Acne: For those suffering from acne and the occasional breakout, pineapple can help. The active ingredient in pineapples, bromelain, can help treat and prevent acne. Additionally, it also contains a ton of Vitamin C and antioxidants to fight off dirt and bacteria.
Evens Out Skin Tone: Because of the bromelain, pineapple juice is extremely beneficial in helping to even out skin tone. This means that those with uneven skin tone and redness can see clear skin in time.
Prevents Fine Lines: Apply a pineapple mask on a regular basis, and you'll see notice fine lines start to disappear. This is because pineapples are jam packed full of vitamin C, which is a key ingredient to preventing and getting rid of fine lines and wrinkles.
Fades Scars & Spots: Regular use of pineapple face masks can help to fade out stubborn acne scars as well as dark spots, age spots, and sun spots. Be sure to use on a regular basis to see its full potential!
Exfoliates: Pineapples are naturally exfoliating, and therefore, a must have in any face mask! Exfoliating your skin is a crucial step in your skin care regimen to get rid of dead skin cells. Dead skin cells can accumulate and cause excessive oiliness and breakouts.
Before trying out any of the recipes below, please make sure to test a patch of skin. Some people are allergic to certain ingredients, including pineapples, so be sure to test a small area on your arm before.
5 DIY Pineapple Face Masks for Perfect Skin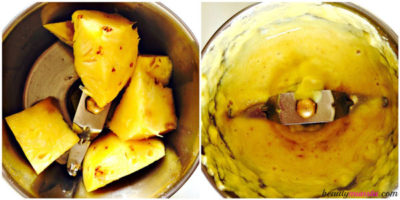 #1. Pineapple & Turmeric Mask for Acne Prone Skin
Those with acne prone skin can benefit from this pineapple & turmeric mask! In a food processor or blender, grind a chunk of fresh pineapple until it becomes a smoothie-like consistency. To that, add a pinch of turmeric and stir well. Apply to clean skin and leave on for 10-15 minutes. Rinse off. Use 2-3 times a week for best results.
#2. Coconut & Pineapple Mask for Glowing Skin
This tropical concoction will leave your skin super smooth and glowing! To a blender or food processor, add 4 slices of fresh pineapple and 2 tbsp coconut milk. Blend until it forms into a smooth paste. Apply to clean skin and leave on for 10-15 minutes. Rinse off and pat dry. Repeat 2-3 times a week for perfect, glowing skin.
#3. Pineapple & Grapeseed Oil For Dry Skin
Those with dry skin can use this super simple pineapple & grapeseed oil mask which gently hydrates and heals skin. To a blender, add 4 fresh slices of pineapple, 1 tbsp grapeseed oil, and 2 tsp honey. Apply to clean skin and leave on for 10-15 minutes. Rinse off and pat dry. Repeat 2-3 times a week.
#4. Egg White & Pineapple Mask for Aging Skin
To tighten and plump up skin, use this egg white & pineapple mask on a regular basis. To a blender or food processor, add a big chunk of fresh pineapple, 1 egg white, and 1 tsp honey. Blend until a smooth consistency forms and apply to clean skin. Leave on for 15-20 minutes and rinse off. Repeat 2-3 times a week.
#5. Pineapple & Cucumber Mask for Dull Skin
To get that skin glow back, use this pineapple & cucumber mask! Blend 1 part pineapple with 1 part cucumber, and mix in enough heavy cream to make the mask the right, paste-like consistency. Apply to clean skin and leave on for 15-20 minutes. Rinse off and pat dry. Repeat 2-3 times a week.
#6. Pineapple & Manuka Honey Mask For Sensitive Skin
Other Pineapple Uses for the Skin
If you don't feel like making a full on pineapple face mask, you can also just use pure pineapple juice directly on the skin! Do this by first juicing some (preferably organic) pineapple. If you don't have a juicer, you can purchase organic pineapple juice at your local health food store.
Once you have the pineapple juice, you can use it as a toner. Just apply a small amount of the juice onto a cotton pad and swipe onto a cleansed face and neck. Leave on for 10-15 minutes and rinse off. If you have oily prone skin, you can even leave it on for 30 minutes.
Applying a pineapple toner can help prevent breakouts and excessive oiliness, as well as balance the skin's pH. Alternatively, you can also cut up a pineapple cube and rub directly onto the skin.
Like this post? Share and Pin 🙂