Making your own homemade body wash is SO easy, that once you gather the ingredients you need, you'll never buy body wash again! This natural body wash doesn't contain any chemicals, dyes, or unnecessary ingredients which means it won't dry out skin and it won't harm sensitive skin! With only just three simple ingredients, this homemade body wash will hydrate, heal, and clean all skin types all while saving you a ton of dough!
Homemade Body Wash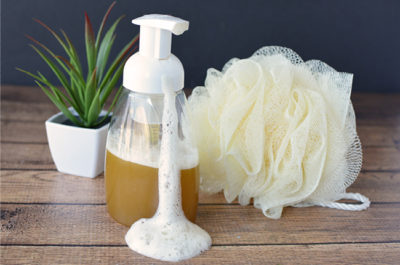 What's really great about this body wash is that you can customize it to whatever scent you want! The recipe calls for 10-20 drops of essential oil of your choice so whether you want to add lavender essential oil, or peppermint essential oil, the choice is all yours! Or, you can even mix and match essential oils such as lavender and jasmine or orange and lemon!
You'll Need:
2/3 cup liquid castile soap (can be purchased at your local crafts store or online!)
10-20 drops essential oil of your choice
2-3 tbsp shea butter or coconut oil
Directions:
Start by melting your shea butter or coconut oil in a microwave safe bowl or using a double boiler method.
Let the butter or oil cool down.
To a clean, sanitized body wash bottle, add the melted butter or oil, the liquid castile soap, and the essential oil.
Shake well to mix it all up and it's ready to use!
Use in the shower as you would any body wash!
Benefits:
Moisturizing & hydrating
Cleansing
Smooths out skin imperfections
Prevents uneven skin tones
Gets rid of bumps and blackheads
Like this post? Pin and share 🙂