Looking for a refreshing and summery salt scrub? Look no further than this rosemary lime salt scrub that will leave your skin glowing and silky soft! Made with sea salt, rosemary, freshly squeezed lime, and olive oil, this salt scrub gently sloughs off dead skin cells revealing ultra soft, glowing skin after just one use. This homemade rosemary lime salt scrub smells absolutely divine and looks like a super expensive store-bought scrub (but it's really not!).
Homemade Rosemary Lime Salt Scrub Recipe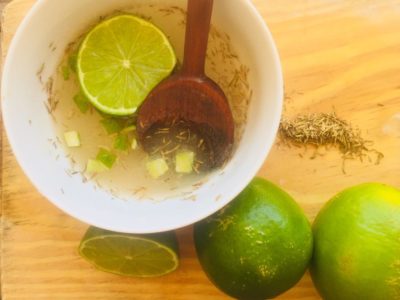 Ingredients:
1 1/2 cups salt – Epsom salt, magnesium salt, or sea salt
4 tbsp olive oil
juice of 2 limes OR lemons
zest of 1 lime OR lemon
2 sprigs rosemary
Healing Benefits: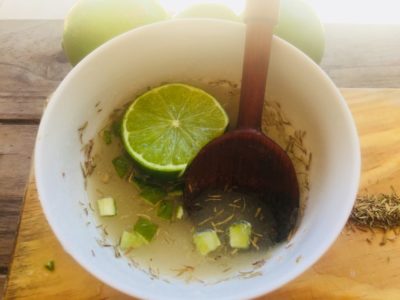 This homeamde rosemary lime salt scrub has a TON of healing benefits for the mind, body, and soul! Let's check them out!
We recommend you use Epsom salts or magnesium salt, but if you don't have them, sea salt will do just fine!
Salt helps the muscles relaxes and also reduces inflammation.
Olive oil is also anti-inflammatory, moisturizing, and helps with skin conditions such as eczema and psoriasis.
Limes and lemons are natural bleaching agents which can help with skin discoloration, age spots, dark spots, and sun spots.
Rosemary helps skin conditions and can also help alleviate pain, plus it brings an amazing scent to this salt scrub!
Directions:
In a medium sized bowl, mix in the olive oil and salt.
Stir until well combined.
Squeeze in the juice of 2 limes or lemons and stir again.
Add in the zest and pieces of rosemary.
Scoop into a clean (and pretty!) mason jar.
Use in the shower on wet skin. Scoop out a generous amount and rub directly onto skin in slow, circular motions.
Focus on rougher areas such as elbows, knees, and back.
Rinse off and pat dry.
Use no more than 3 times a week.
Like this post? Share and Pin 🙂