To get out of this horribly cold winter funk, we thought we'd make some super fun and colorful sugar scrubs! This homemade sage & blackberry sugar scrub is the perfect cold weather cure! Blackberries are totally reminiscent of summer, and that's why this scrub will be your perfect winter pick-me-up! The combination of sage with blackberry is a heavenly one because sage has an earthy, fresh scent that goes oh-so-well with blackberry!
Homemade Sage & Blackberry Sugar Scrub Recipe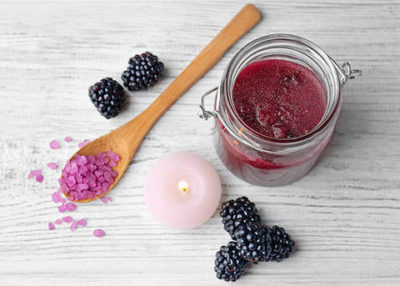 Ingredients:
3 cups white sugar
1/3 cup coconut oil
8-12 large sage leaves
1/2 cup blackberries
Directions:
Add all ingredients from above to a food processor.
Process on high until smooth.
Scoop into a clean, airtight jar or container.
Store for up to 1 week.
Use scrub in the shower every other day for smooth, exfoliated skin!
Benefits:
Exfoliates skin
Smooths skin
Hydrates
Evens out skin tone
Reduces appearance of cellulite
Increases blood circulation
Like this post? Pin and Share 🙂