Just in time for Valentine's Day, this homemade strawberry sugar scrub will make the perfect gift for a loved one, or the perfect gift for yourself! Made with all natural ingredients, this strawberry scrub will leave your skin silky smooth and polished, and will have you smelling like delicious, romantic strawberries!
Homemade Strawberry Sugar Scrub Recipe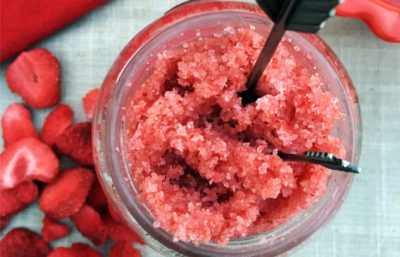 Ingredients:
Directions:
Add the freeze dried strawberries to a food processor and pulse until they turn into a powder.
Lay the powdered strawberries onto a sheet and roll with a pin to crush some more.
Combined all ingredients together and mix until a scrub like consistency forms.
Scoop into a pretty airtight jar and you're ready to go!
Use in the shower as you would any other scrub!
Benefits of Homemade Strawberry Sugar Scrub:
Exfoliates
Smooths skin
Prevents breakouts
Reduces appearance of cellulite
Hydrates
Like this post? Share and Pin 🙂