Ever heard of a sea moss face mask? Loaded with good-for-your-skin nutrients, these DIY sea moss face mask recipes work hard to cleanse, purify, and detox the skin. But what is sea moss, exactly? Sea moss is a type of algae, a red seaweed to be more precise, which grows predominantly off the coast of Ireland. It's also called Irish moss, and, in recent years, has become increasingly popular in skin care.
But why is sea moss so popular and what can it do for the skin? It's actually a sort of superfood (and mostly used as a supplement), because it's loaded with potassium, calcium, iodine, iron, zinc, manganese, and so much more. It also has a high sulfur content, which means it's antibacterial, antiviral, and antimicrobial, making it a great ingredient for your skin!
If you can source your own sea moss, make sure to thoroughly cleanse the moss of any sea debris before using. If not, most sea moss can be purchased online or at your local food health store. You can purchase dried sea moss or sea moss that's in gel form. They can usually be used as a food supplement or for DIY purposes, such as these sea moss face mask DIY recipes. For most DIY sea moss face mask recipes, you'll need the gel. Here's how to make your own sea moss gel:
How to Make Sea Moss Gel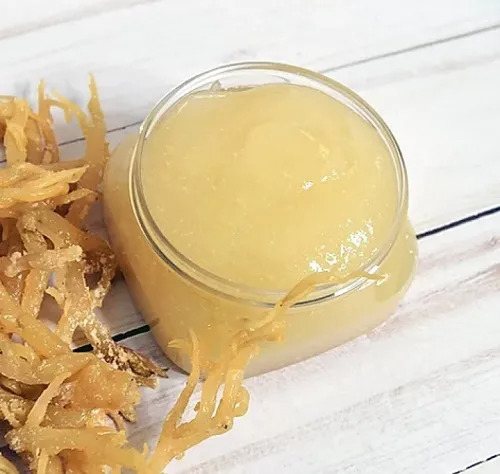 Making your own sea moss gel is super easy and fun! Before you begin, it's super important that you clean the sea moss of any dirt and debris. Do this by placing the dried sea moss in a bowl, covering with water and massaging the dirt out. If you see any dirt, simply remove it with your fingers. Rinse the sea moss several times.
Once the sea moss is nice and clean, place in a clean bowl and cover with filtered water, or for an added bonus, green tea. Cover the moss with plastic wrap and let it soak at room temperature for 12-48 hours. Within this time frame, the sea moss will have expanded from having absorbed the liquid.
To make the gel, simply remove the sea moss from any liquid left (do not discard liquid), and place in a blender or food processor. To that, add about a cup of the reserved liquid. If there is no liquid left, or there isn't enough, just supplement with extra filtered water or green tea. Blend for a few minutes or until smooth. Pour the mixture into an airtight container and refrigerate for about 2 hours.
The moss will thicken and turn into a gel like substance which is now ready to use in DIY skin care recipes, drinks, or foods! Any leftover sea moss gel can be stored in an airtight container in the refrigerator for up to 1 month, or, in the freezer for 3 months.
DIY Sea Moss Face Mask Recipe With Turmeric for Dry Skin
For this recipe, you'll need sea moss gel, honey, and turmeric powder.
2 tps sea moss gel
1 tsp honey
1/4 tsp turmeric
In a small pot, heat all ingredients on the lowest heat settings – do not boil, just slightly heat so the mask is warm. Apply the mask to clean skin and neck and leave on for 15-20 minutes. The heat from the mask will help open up the pores which will help cleanse the purify the skin. Rinse the mask off with cold water and pat dry. Use once or twice a week for best results.
Aloe Vera and Sea Moss Face Mask For Soothing and Hydration
For this recipe, you'll need aloe vera gel, sea moss gel, and half a fresh cucumber.
To a blender or food processor add all ingredients and puree until smooth. Apply to a clean face and neck and leave on for 15-20 minutes. Rinse off with lukewarm water and pat dry. Use once or twice a week for best results.
Cleansing and Purifying Sea Moss Face Mask and Activated Charcoal
This is a quick and simple recipe that uses activated charcoal and sea moss gel to cleanse and purify the skin.
1 1/2 tbsp sea moss gel
1/4 tsp activated charcoal powder
In a small bowl, mix the sea moss gel and activated charcoal powder until well blended. Apply the mixture to clean skin and leave on for 15-20 minutes. Rinse off with lukewarm water and pat dry. Follow up with your favorite toner and use once or twice a week for best results.