If you keep up with the world of fashion, you may have noticed that several designers opted for denim this year. On the runway, we saw denim skirts, denim jackets, denim dresses, and even denim sandals. While it's obvious that denim will be BIG this season, the question on everybody's mind remains: denim skirts, yay or nay?
Don't get me wrong: I used to be a HUGE fan of denim skirts and wore them religiously. But I'm in my late 20s now and even though I STILL own several denim mini skirts, I feel somewhat outdated when I wear them. And maybe a little old? But no, I won't do that to myself and I don't recommend you do it to yourself either! If you like it – wear it!
So should you dust off your old denim miniskirts, or are there totally new styles?
Sorry babes on a budget, but the ripped, mini denim skirt is completely outdated (well at least according to designers). This season's denim has gone a complete overhaul and we're seeing a rise in retro denim. Yes, that even includes flared jeans! But while I'm not ready to go down that road just yet, I may just be able to embrace the new denim skirt.
Think longer. Think 70s. Think…workplace appropriate if you could wear a jean skirt?
This season, most denim skirts will have a button through line. Opt for knee length skirts with an A-line shape for the trendiest look.
A Few Ideas…
What to Wear With a Denim Skirt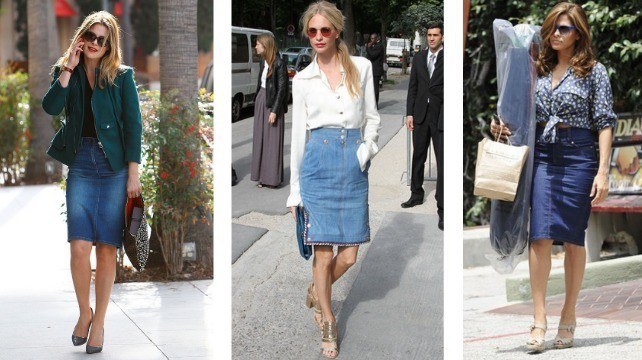 The possibilities are endless really. Think of your new denim skirt like a pair of jeans. They pretty much go with anything! Pair a denim skirt with any boot or a cute pair of wedges for an effortless look. Kick it up a notch with pumps or stilettos. Top it off with a white tee, a crisp button down shirt, a slouched sweater, or a crop down if you're choosing to go the high-waisted skirt route. Again, it's YOUR style so play around with different colours and textures and see what works best for you!
If you enjoyed this post, don't forget to share:)