So what do you think of Eva Mendes' and Scarlett Johansson's outfits at the premiere of Spirit on Dec. 8? Well for one thing, I believe Eva pulled it off better than Scarlett.
Eva Mendes vs Scarlett Johansson: Which is Better?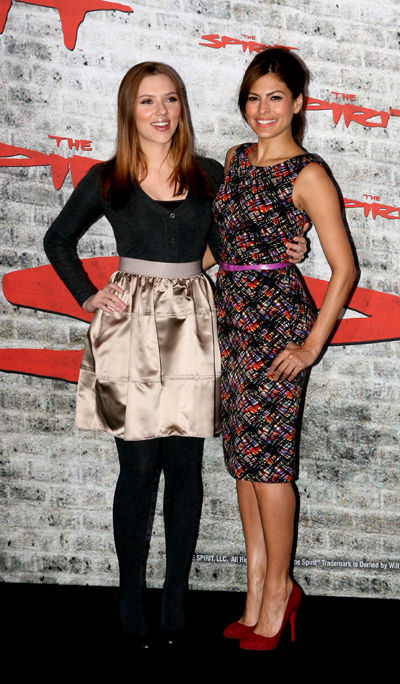 Scarlett wore a satiny high-waist bubble skirt with black tights and a black top AND black shoes. Can you say too much black? She's absolutely gorgeous but this outfit makes her look like someone that has no fashion sense whatsoever! Usually Scarlett always looks amazing, but this time she really did it wrong. On top of that, her hair is flat and boring. The outfit itself is already blah…she could have at least done something with her hair! What do you think?
As for Eva, her outfit is not too bad, but I'm just not sure about the printed dress paired with the purple belt. If there is one thing I do love about her outfit, it's the shoes of course. All in all though, I think there is way too much going on and she could have chosen a better dress, although it does fit her nicely.
I believe Eva takes the trophy in this one…it's just not going to be a very nice trophy. Either way, posing side by side Eva looks better! Sorry Scarlett!
To read more fashion related posts, check out our Fashion Blog!
If you like this post, don't forget to share 🙂