So I admit that I'm not a huge Fergie fan, but that doesn't mean that I'm going to put down her outfit because of that. When I first saw this picture, I thought…wow, okay, Fergie has taken her outfits down a notch. I couldn't believe what a simple dress she had chosen…until I scrolled down and saw her shoes.
Fergie's Neon Sandals: Hit or Miss?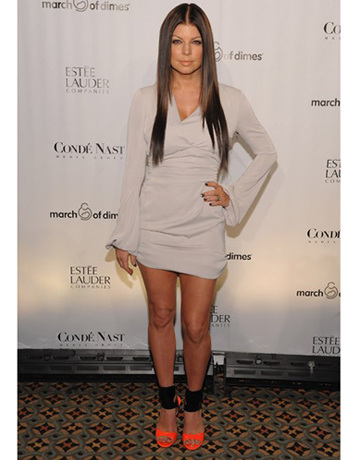 Now I know that being a celebrity, gives these people the right to try new things and experiment with fashion…but sometimes it's just a little too much. They need to step back, take a good look at themselves in the mirror and assess the outfit one more time before leaving the house.
Like I said, I actually really love her dress. It's very fun, flirty and feminine. But the shoes? I'm not so sure about. I love the orange neon color by itself but what the hell are those black straps? I think the shoes sans black straps might have looked a little better, but even so, they do not go with the dress at all. What do you guys think of Fergie and her outfit?
If you like this post, don't forget to share 🙂