Lucy Liu isn't in the spotlight as much as we would like her to be, but that's ok. She obviously keeps herself shielded from the Hollywood drama, but I was wondering what you all thought of her outfit at the Vanity Fair Character Project. Now I'm not a really daring, statement-making fashionista, but I do love my shoes and once in a while, I'll go for something non-traditional. So what do you think of Lucy's statement-making outfit?
Lucy Liu's Outfit: Love it or Hate it?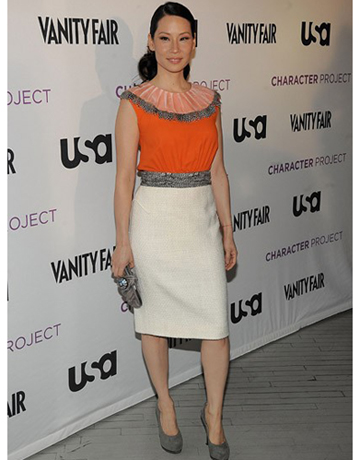 Personally, I couldn't pull that off, simply because of the collar. Other than that, I love how this dress fits on her and I love the orange and silver combination of her belt and top. The shoes also look good with the dress, but she could have chosen a racier pair to balance the conservative look of the outfit.
My only problem as I mentioned earlier was the collar. Take the collar off Lucy Liu, and this outfit will be fabulous!
If you like this post, don't forget to share!