Mary-Kate Olsen….a fashion hit or miss? You decide! The Olsen twins always tend to surprise us with their dress of choice, and sometimes we really dig it while other times we just don't even know what to think. The culprit though, always seems to be Mary-Kate who pulls off some of the strangest and unique outfits we have ever seen. So what is she wearing  now?
Mary-Kate Olsen: Fashion Hit or Miss?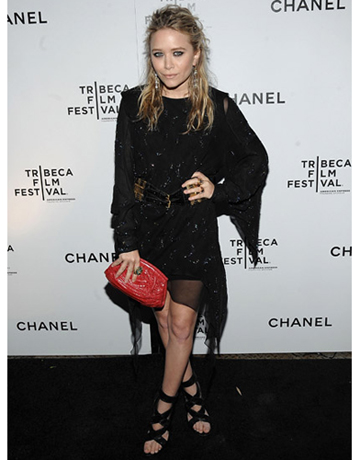 Well I don't quite know where she got the inspiration from,but that outfit as a whole is a little too vampire-esque for me. She's an exceptionally beautiful woman, but the black does no good to her. The dress actually makes her look shorter than she is, and even though we can see she has a belt on, it's barely noticeable therefore blending in with the rest of the dress.
The only thing I do like on this outfit is her shoes which are to die for and the clutch which brings out a little bit of color to the ensemble. Overall, I would give this look a 5/10.
If you like this post, don't forget to share 🙂