Dare to be different! Trying out new makeup colors and style that you wouldn't normally wear, can be a bit frustrating, so that's why most of us stick to our regular makeup routine. Well get out of your rut already, and try something new and daring! These colors are a big hit this summer, so don't be afriad to get a little crazy.
Dare to be Different
Colorful Eyeshadow Palette
You see these eyeshadow palettes almost everywhere and they're very inexpensive, so pick one up today and try some crazy colors that you wouldn't normally dare to. Try a light blue and a baby pink and blend them together or create your own, the possibilities are endless!
Your True Lip Color
Sure you can try out a million different lip shades, but do you really know what looks good on you and what doesn't? JK Jemma Kidd Lip ID Color-Adapt Lip Gloss take all the guesswork out for you! The color changes depending on the pH of your lips, so everyone gets a personalized shade!
Day-Glow Nails
There's nothing sexier this summer than brightly colored nails and toes. The trick to making these bright colors work is to keep your nails very short and impeccably manicured. Try Essie's Neon Collection.
Go Crazy With Hello Kitty

MAC's new Hello Kitty collection is out and everybody is going crazy over it, so why not you? Get a playful and youthful look with MAC's Hello Kitty Beauty Powder Blush and apply it to the apples of your cheeks. Finish off with MAC's Hello Kitty Lipglasses in your signature lip color.
Childhood Memories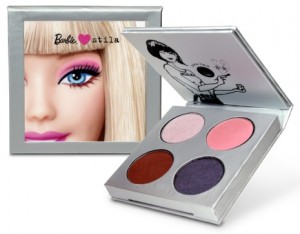 If you were ever a huge Barbie fan like I was, then you'll love this new eyeshadow palette from Barbie Loves Stila Talking Palette which comes in four different bright and playful eyeshadow colors. What's even better is that if you're unsure how to apply those colors, the kit comes with recorded step-by-step instructions.
Dare to go Red
From the time we were children we were instructed never to wear bright red lipstick, but we're not kids anymore and we can do whatever we want! The trick here is not to go out and buy the brightest red lipstick, but to actually find a shade that suits your skin tone.
Go Matte
Black shades have been very popular this season, but there is a new twist on the black shades. Instead of going for the regular, pick up a matte black nailpolish like the one from Knock Out Cosmetics in Flatte.
Metallics
You shouldn't be afraid to experiment with new colors, especially metallics since they tend to look good on almost all skin tones. Try a sparkly metallic eyeliner to get out of your rut.
If you like this post, please share 🙂