Mila Jovovich's vintage style – love it or hate it? Most celebrities wear the latest trends and fashions, but I love it when I see a celeb wearing something unconventional or vintage. This time, actress and model Milla Jovovich played the part well in a very feminine vintage outfit.
Milla Jovovich's Vintage Style: Love it or Hate it?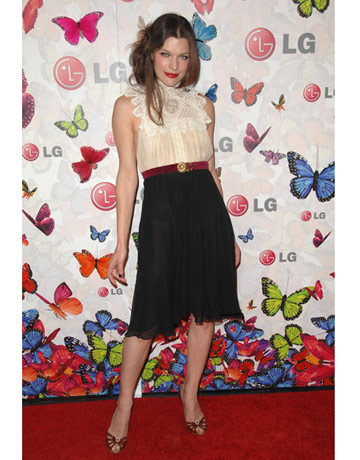 I love this outfit on Milla because it suits her but also because it looks absolutely adorable. The embellished ruffled top is to-die-for and goes very well with the black flowy skirt. Also, because Milla is a model, an outfit such as this one will most likely look better on a taller silhouette.
The only bad thing about this outfit is the brown belt, which I'm guessing is to match the brown sandals, but it just does not go with the black skirt. I would have opted for a different colored belt such as a light beige.
If you like this post, don't forget to share 🙂