These must-have 2011 fashions will give you serious wardrobe envy! Just because summer is almost over, it doesn't mean that the year is coming to an end too. We still have plenty left of 2011, and with two new seasons in two, we'll need to update our closets…even if just a little bit!
I really loved this year in fashion, especially this past summer. All the bright colors, the 70s inspired attire, and tons of prints made me think of my childhood summers when everything was simple and carefree. Thankfully, this mentally seems to carry over into the fall and winter as we'll see lots of playful, carefree trends that we just won't be able to resist.
So gals, here is your 2011 fall/winter style watch.
Must-Have 2011 Fashions
HIPPIE CHIC
Like I said, the 70s made a huge impact on fashion, and it only seems to be coming back again and again. So why not pick up a few hippie pieces like a pair of wide-leg trousers, a tunic, or a halter? After all, 70s style fashions are one of the most figure flattering fashions of all.
MINIMALIST
As I've mentioned to you in my previous fashion post, the minimalist look is BIG this upcoming season, so stock up on a few simple, neutral pieces. Soft, flowy fabrics are also a must when pulling off a minimalist look.
LONG SILHOUETTES
Move over minis…long silhouettes are all the rage this season! Long, flowy skirts, dresses, and pants are ideal for a smart, sophisticated look. The elongated pieces will also make you look taller, giving you a leaner figure.
PRINTS, PRINTS, PRINTS
Are ya surprised? Didn't think so. Prints were HUGE this summer and it's no wonder they will carry on during the fall and winter too. This time though, this bigger, and bolder, from fruit prints to animal prints, and everything else in between.
BRIGHT AND BOLD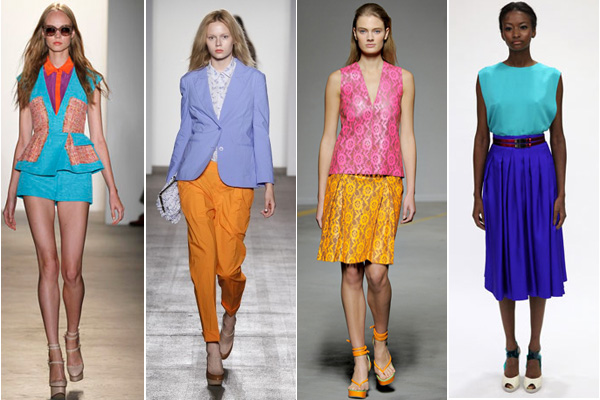 Color is still in play…and in a big way! Don't be afraid to wear two bright colors at the same time – try a few different combinations and get inspired by the runway fashions that show all of us that it IS possible to wear bold, bright colors and still look fabulous!
PAJAMA PARTY
A little more on the risque side, this new trend brings the bedroom to the outside world. Think, loose, flowy, see-through fabrics, slip-like dresses, and super comfy pants that you'll wanna spend all day in. But, proceed with caution – this trend could easily have you look as if you forgot to change out of your pjs!.