Rachel McAdams is one of my favorite actresses, and I think we all fell in love with her somewhere during Mean Girls and the Notebook, but she recently launched her new movie The Time Traveler's Wife, and showed up in a plunging neckline dress at the opening. So what do you think of her look, yay or nay?
Rachel McAdam's Plunging Dress: Yey or Nay?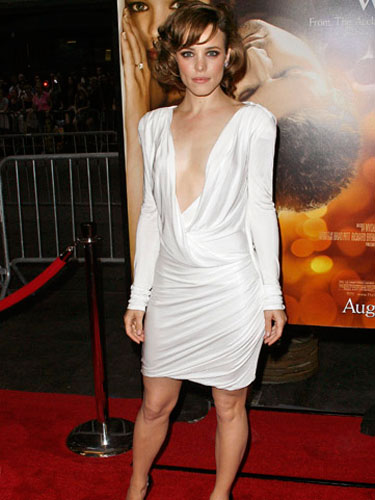 First off I must say this is a different look for Rachel, who is otherwise pretty conservative and simple. I don't hate the dress, but I can't say I love it either. I don't know if it's the angle at which this picture was taken or what, but she seems really short to me! With that said, I think her hair looks absolutely gorgeous..very roaring 20s which I think complements the otherwise revealing dress.
I think this would have totally worked for Rachel if a few things woulda have been tweaked on the dress. First, I believe I'm seeing some shoulder pads…which I cannot stand. Second, the dress is the wrong length for Rachel – I think something that sweeped the floor would have suited her better. Overall though, I still think she looks beautiful, just the wrong dress! What do you think of Rachel's look?