This spring and summer there's a new trend that's been especially popular with celebrities and that's sheer fabrics. Although these types of fabric can look totally cute and feminine, they can be rather tricky to pull off and, if you're not careful can actually make you look cheap. So here are a few things you should look out for when wear sheer fabrics!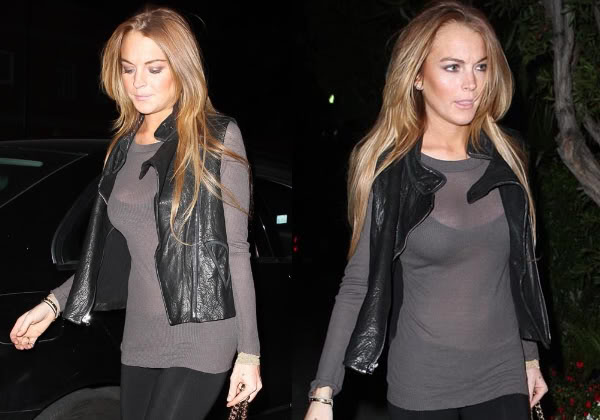 The sheer top Lindsay Lohan is wearing above is just the right amount of sexy without overdoing it. When wearing a sheer top make sure your bra is almost the same color! And in her case, a leather motorcycle vest over the sheer top is just perfect.
#1: One Sheer Piece is All You Need
Don't ever go for a sheer dress because well…that's pretty self-explanatory! Oh and that includes jump suits or 2 piece ensembles. Instead, choose a soft, feminine top with sheer sides or arms.
#2: Say NO to Sheer Pants
Don't even know if these exist, but I'm sure they do! In any case, sheer pants are a no-no unless you're at the beach!
#3: Be Sexy, Not Sleazy
Sheer fabrics are hard to pull off if you're not quite sure what to do. So before you head out the door, think really hard and decide if you look sexy or sleazy…there's a big difference! If you're donning a sheer top, make sure it's tasteful and never let your entire bra show!
#4: Less is More
When wearing sheer fabrics keep in mind that they're very eye catching, so pick a feminine top with sheer accents such as the sleeves or sides of a top.