Unflattering jeans: today's topic! If you look at the huge array of denim styles available in retail stores, you'll notice that they're not necessarily flattering, but rather, they're just "stylish" and most times, conjure images of 80s denim. Now just because something is in style, doesn't mean you have to follow it! There are plenty of trends out there that ARE flattering, but unfortunately, there are a lot that aren't!
Unflattering Jeans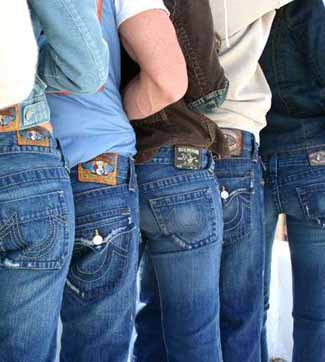 So how do you know which jeans are flattering and which aren't?
Well first rule of thumb is that even though a jean style may be popular and trendy, it doesn't mean that it'll look good on you!
Take for example acid-wash jeans, which were a big staple back in the 80s, but lets be honest, even then, these babies looked sooo unflattering. So if you're petite or have a bigger booty, stay away from these 80s "trendy" jeans:
acid wash jeans
the boyfriend jean (although comfortable, these jeans are shapeless and won't do anything for curvier girls)
skinny jeans (yes, they look awesome on most people, but if you're really short and curvy, skinny jeans are a no-no, sorry!)
high-waist jeans (these don't look good on anybody, so please, just throw them out)
liquid leggings (if you're under 25 and fairly thin, these are fine…but a mature woman will never be taken seriously in these).
ripped jeans (follow the same rule as above, simple as that!)
If you liked this post, don't forget to share 🙂