It's almost back to school time (sorry guys!), but that means you get to re-invent yourself! And even if you're not in school, these boho braided hairstyles will look cute on anyone and for any occasion! We've scoured the Internet to find the most stylish, and easy to replicate boho braided hairstyles, and these looks made it! There's even boho braids for short hairstyles, so no one's left out! Check out the styles below and see which ones you think you'd rock! If you're not the best at braids, share this with a friend who IS, and have him/her do your hair!
Boho Braided Hairstyles
#1. Side French Braid
Perfect for those with short hair, this easy-to-do hairstyle makes sure your hair stays out of your face so you can focus on more important things!
#2. Rose Twist Braid
The rope twist braid is perfect for a super quick hair do that will take you just seconds to do!
#3. Double Braided Ponytails
Another quick boho braid, this one works great for medium-long hair.
#4. Front Row Braid
This awesome asymmetrical braid looks put together and works very well with long hair styles!
#5. Accessorized Braid
Make a simple braid and throw in some cute accessories! Works on any hair length!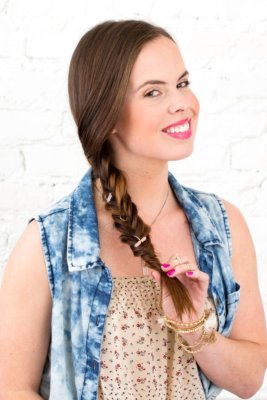 #6. Celtic Knot Hair
A little bit more complicated, but if you have a friend that can replicate this, it looks absolutely amazing!
#7. Fishtail Braided Bun
Perfect for work or school, this put together bun looks classy and fun!
#8. Messy Fishtail Braid
This messy fishtail looks great on long hair!
#9. Upside Down Braided Bun
A little more complex but looks oh-so-cute!
#10. Half Up Box Braids
These half up box braids look so amazingly adorable you'll wanna wear them all the time!
#11. Side Braid
This side braid is easy to do and works really well on short hair!
If you like this post, don't forget to share 🙂