This copycat Lush Marilyn Mask is perfect for blondes or those who want to naturally lighten the hair. This super fresh, lemony hair mask lightens and brightens hair with all natural ingredients such as chamomile tea and lemon juice. Pretty close to the original, this copycat Lush Marilyn mask won't cost you more than a couple of dollars to make and will leave your hair a shade lighter, brighter, and oh-so-shiny!
Copycat Lush Marilyn Mask Recipe
Ingredients:
How To: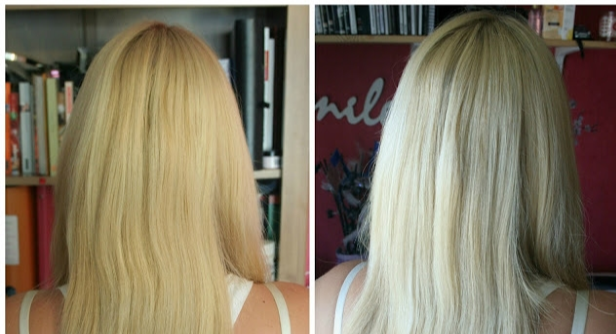 Mix all ingredients in a bowl and stir well.
Apply to dry hair, starting at the ends and working your way up to your roots.
Leave on for 20-30 minutes and rinse out.
Shampoo and condition as usual.
Use as often as you'd like, but just be aware that this DOES lighten the hair.
NOTES:
For a thicker consistency mask, be sure to use semi-solid coconut oil and beat on low speed until a smooth, paste-like consistency forms.
If you're using olive oil, be aware that the mask will be runny, so slip on a shower cap or towel to prevent leaks.
This hair mask is not only great because it lightens and brightens, but it also locks in moisture, making the strands super hydrated and soft.
It's also great for those with dry, damaged hair, as the coconut oil or olive oil will fix split ends, friziness, and extreme dryness.
Like this post? Share, Pin, and Comment Below 🙂