This DIY shiny hair mask will hydrate, lock in moisture, and add tons of shin to dull, drab hair. Made entirely out of natural ingredients, this hair treatment will add tons of sheen and shine to dry, frizzy locks after just one use! Use this DIY shiny hair mask twice a week to ensure healthy, strong hair!
DIY Shiny Hair Mask Recipe
You'll Need:
Directions:
To a microwave safe bowl, add all of the ingredients. Stir well until all ingredients are incorporated.
Microwave for 15-20 seconds or until the mixture becomes warm but not too hot.
Stir well and let the mixture cool.
Once cooled, apply to hair, starting at the roots, and working your way all the way to the ends.
Massage in slow, circular motions.
Cover hair with a shower cap and top off with a hot towel. The hot towel will warm the mask once more, making sure it penetrates into the hair follicles.
Leave on for 45 minutes to an hour.
Rinse out, and shampoo and condition as usual.
Why This Mask Works: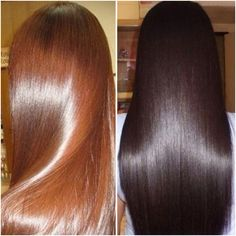 Coconut oil is packed full of fatty acids that penetrate the hair shaft to hydrate dry hair, fix split ends, and add shine to dry, frizzy hair.
Olive oil works to moisturize dry scalp, repair damage from hair dyes, styling tools, and hair products, as well as add shine.
Lemon juice cleanses the hair and scalp, and also brightens the hair color.
Cornstarch helps to smooth out unruly, frizzy hair.
Like this post? Share, Pin, and Comment Below 🙂