Today we'll show you how to get beach hair in under 5 minutes! Getting that "just got back from the beach" hair look can be hard, especially if you didn't just come from the beach. But achieve that effect takes no longer than 5 minutes and lasts all day.
Get Beach Hair in Under 5 Minutes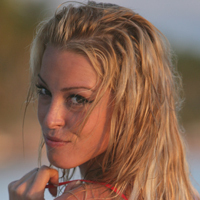 Start by dividing your hair into 3 separate sections and braid each section. Mist your hair with a thermal-protecting spray and run a flatiron over the braids.
The heat will lock in the crimp so that when you undo them, you'll have a beachy texture. Undo the braids and set strands with a wave-enhancing spray. Your hair will look a little messy, a little beachy and a little crimpy, but just perfect!
If you like this post, please share 🙂