Wanna find out how to diminish cellulite? This simple DIY recipe uses all natural ingredients to diminish the look of cellulite after just one use! Cellulite is one of the biggest skin issues that women suffer from, and although we're always looking for new ways to get rid of them, we're not so successful. Spending money on expensive creams and such is not a good idea, especially when you can make your own product at home! Here is an excellent cellulite recipe you can make in the comfort of your own home.
One of the most important things to remember when trying to diminish cellulite is to massage the cellulite area. Massaging it will help redistrubute the fat cells that are trapped, making the cellulite less visible.
Diminish Cellulite With This Simple Recipe
Coffee Body Scrub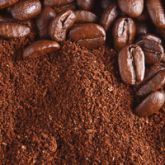 Ingredients
2 cups ground coffee
1/2 sugar or sea salt
2-3 tablespoons of massage oil of your choice
Preparation
Mix all the ingredients. Start off by taking a quick, warm shower. Then, start applying the scrub, gently massaging the skin. Rinse off with luke warm water.
Using coffee increases the circulation. By doing so, it distributes the clusters of fat that give the skin that "orange" appearance. You could also add ground coffee to your regular body wash.
If you like this post, don't forget to share 🙂