For those with extra curly hair it can be very hard to find that perfect conditioner, but this homemade deep conditioner for curly hair is here to the rescue! Formulated specifically for those with extra thick, curly, and sometimes unruly hair, this deep conditioner will deeply hydrate, perfect curls, and calm down frizziness all in one! No need to spend hundreds of dollars on expensive deep conditioning creams and products anymore – all you need are just a few natural ingredients to tame those beautiful curls!
Homemade Deep Conditioner for Curly Hair Recipe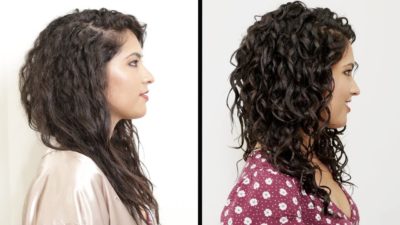 Ingredients:
1/2 small avocado
1 banana
1 tbsp conditioner
1 tbsp shea butter
1 tbsp honey
1 tbsp castor oil
5 drops rosemary oil
1 tbsp hibiscus powder (optional)
Directions:
In a medium sized bowl, mash the avocado and banana together until they form a smooth paste.
Mix in conditioner, shea butter, honey, castor oil, rosemary oil, and hibiscus powder if using.
Stir well or use a hand mixer to make a whipped solution.
Apply to wet hair starting at the roots and working your hair to the ends by massaging the conditioner through. Leave on for at least 10 minutes and rinse out.
Repeat 2-3 times a week.
Why This Homemade Deep Conditioner for Curly Hair Recipe Works:
Avocado is packed full of omega fatty acids which treats extra dry hair as well as scalp conditions. Avocados also contain proteins which protect the hair and strengthen it, making for healthier, shinier hair.
Bananas are full of magnesium and proteins which help to smooth the hair and therefore getting rid of frizz.
Shea butter is a natural moisturizer which deeply conditions extra dry, curly hair.
Honey is a natural anti-septic that prevents bacteria build up and leaves hair squeaky clean and extra shiny.
Castor oil is one of the best and most popular oils used for dry hair as it contains enzymes which help to seal is moisture and protect hair against further damage.
Rosemary oil is an essential oil which has been used for thousands of years to treat scalp and hair conditions such as dryness, thinning hair, and dandruff.
Hibiscus powder is used to smooth and treat a number of hair conditions as well as to calm unruly curls.
Use this deep conditioner 2-3 times a week to smooth curls, condition dry hair, and add shine to dull hair!
Like this post? Share and Pin 🙂