Fine, brittle hair affects millions of men and women all around the world, and although genetics plays a big part, there are ways to thicken fine hair. Today we'll introduce you to a DIY hair thickening mask that is all natural, and, with regular use, will plump up the hair follicles, giving you that thick, full hair you've been coveting.
DIY Hair Thickening Mask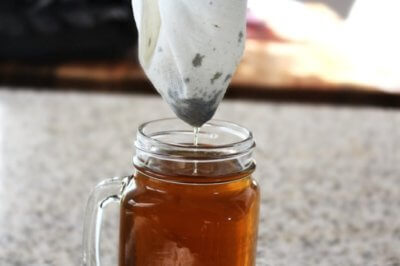 Looking on how to get thicker hair naturally? This rosemary and nettle tea combo is actually proven to thicken hair and promote hair growth as well.
Benefits:
Rosemary is a natural hair thickener and also promotes hair growth due to the amounts of antioxidants in contains. It also prevents baldness, slows down graying, and can also treat dandruff and dry scalp. A hair growth study was done where patients reported a 22% increase in hair thickness and growth.
Nettle, like rosemary is packed full of antioxidants and free radicals that promotes hair growth and hair thickness. It also prevents hair thinning and cleans the scalp.
When combined, these two ingredients form a serious powerhouse that will thicken even the thinnest of hair!
As with anything though, we recommend you use this hair thickening method as often as possible (at least 3 times a week) for 1-3 months. You will start to see thicker hair within one month!
Ingredients:
3/4 cup fresh rosemary
1 nettle tea bag
Directions:
Boil 1 cup of water and add the nettle tea bag and your rosemary.
Steep for 1 hour.
Strain the mixture and allow to cool completely.
You can pour this directly over dry hair, or pour into a spritz bottle and spray hair generously.
Leave on for 10 minutes, or spritz over wet hair and leave on overnight.
Rinse out and shampoo and condition as usual.
Repeat 2-3 times a week.
If you like this post, don't forget to share 🙂