Beautiful, long, thick hair doesn't have to be a thing of dreams and fairy tales, but something that we can actually ALL achieve with a little persistence and a good DIY hair mask! Today we'll introduce you to this ah-mazingly fast and effective DIY hair mask that will answer your question to: how to grow longer hair in a month! This DIY hair mask is SO simple and easy to make, and you only need a few ingredients (which you probably already have!). The secret to longer hair in a month? Persistence! The more you apply this hair mask, the better the results!
How to Grow Longer Hair in a Month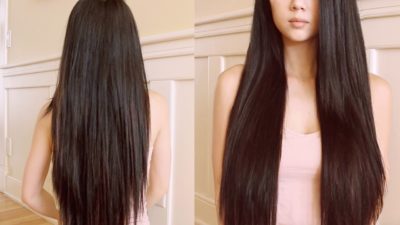 Before we dive into this recipe, we'll take a look at WHY exactly it works! This hair growth treatment contains egg, coconut oil, olive oil, and honey. All of these ingredients are natural, but what makes them so special and how will they actually help you grow longer hair?
Egg: packed full of proteins and amino acids, eggs work to strengthen the hair shaft, as well as to nourish the hair. Eggs are one of THE most popular hair growth ingredients and for good reason too! Not only do they add protein and amino acids to weak, brittle hair, but they also prevent breakage, soften hair, promote growth, and help to restore the hair's natural oils.
Olive Oil: nourishes dry, damaged hair, as well as strengthens it. Also promotes hair growth and cleanses hair of build up and environmental pollutants.
Coconut Oil: promotes scalp health, hair growth, and also nourishes and hydrates dry, breaking hair. Coconut oil also adds shine and softens the hair shaft, leaving it manageable and healthy.
Honey: a natural antioxidant and antiseptic ingredient, honey smooths, conditions, and cleanses hair. Because of its antioxidant properties, honey makes for a great hair growth ingredient because it cleanses the scalp, allowing for the hair follicles to grow quicker and stronger.
You'll Need: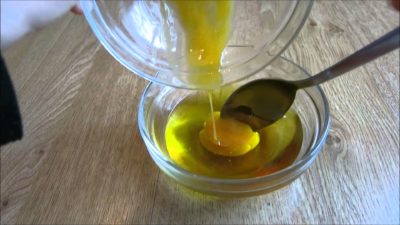 1 egg
1 tbsp olive oil
1 tbsp coconut oil
1 tbsp honey
Directions:
In a small bowl, crack open the egg and beat for a few seconds.
To that, add the olive oil, coconut oil, and honey.
Stir well until all ingredients are combined.
Apply to dry, unwashed hair starting at the scalp and working your way to the ends.
Make sure entire head is saturated, and massage the scalp for 3-5 minutes.
Cover hair with a light towel or a shower cap and leave on for 1 hour.
Rinse out with cold/lukewarm water and follow up with your favorite shampoo and conditioner.
Repeat as often as possible (once a day would be ideal), but 2-3 times a week will do!
You should see results within one month!
Like this post? Share and Pin 🙂