If you're like us, and you love using natural products on your hair and skin, then you've no doubt heard of grapeseed oil and its amazing benefits. In this article, we'll talk about how to use grapeseed oil for hair growth, dandruff, and other hair problems. Grapeseed oil has a slew of benefits for the hair, but first we'll take a quick look at WHY it's so beneficial and what you can get out of it.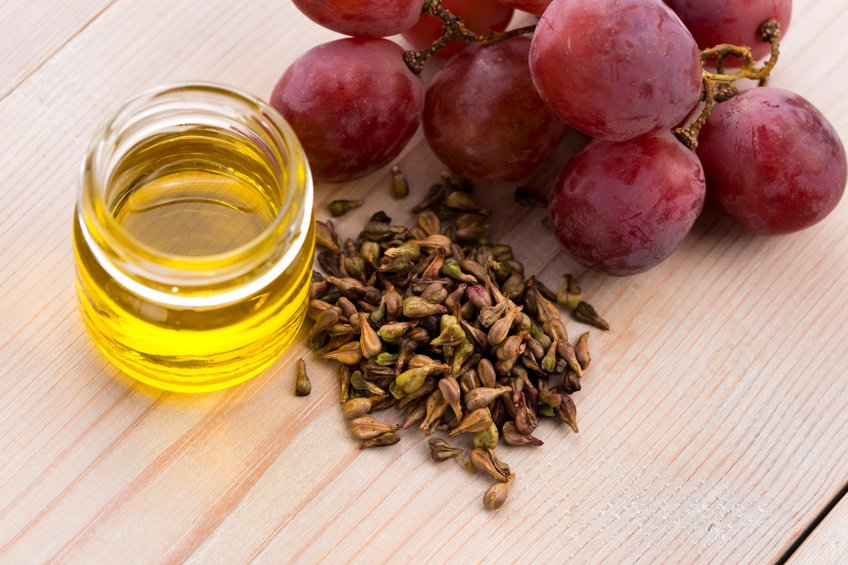 Why Grapeseed Oil is so Good for Your Hair
As you can probably guess, grapeseed oil is made from grape seeds and is packed full of OPCs (oligomeric proanthocyanidin complexes). In a nutshell, OPCs are naturally derived polyphenolic substances that are full of antioxidants. These OPCs can also be found in apples, chocolate, and of course, wine! The main reason why grapeseed oil has so many hair and skin benefits, is because it contains 95% of OPCs, which is the MOST out of any antioxidant! When a substance contains OPCs, like grapeseed oil, (especially an amount that high), it can lower the production of DHT (dihydrotestosterone).
Dihydrotestosterone, or DHT for short, is a hormone that's linked to hair loss, most specifically adrogenic alopecia, also known as pattern hair loss. But, even if you don't suffer from alopecia, grapeseed oil can help immensely with growing thin, weak hair and also strengthening the hair follicles. In short, it promotes quick, healthy hair growth, and can also help with hair loss.
Additionally, grapeseed oil is also packed full of linoleic acid, which is the oil that is extract from the grapeseed. It's a fatty acid that is also found in other foods and helps with organ function. Unfortunately, linoleic acid is not naturally produced by the body, and that's why foods rich in linoleic acid are important. When you don't get enough of this fatty acid, it can lead to a dry scalp, dandruff, and hair loss and thinnesss.
The Benefits of Grapeseed Oil For Hair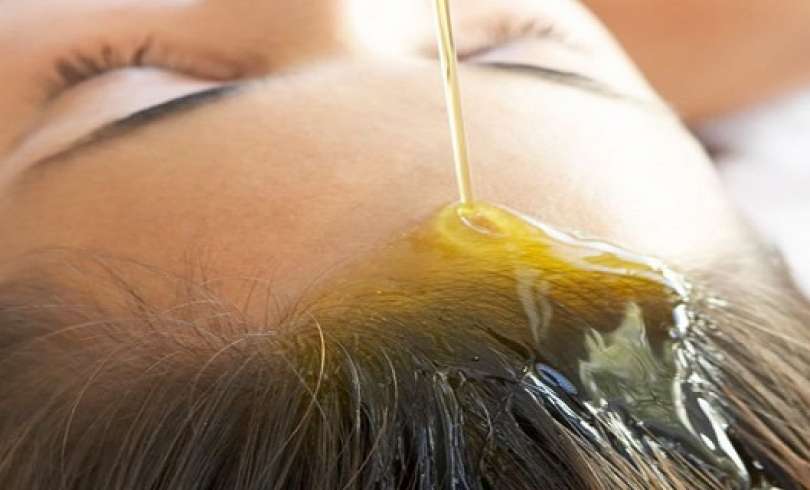 Grapeseed oil is one of the best oils you can use for your hair because it helps to seal in moisture, and therefore prevents breakage. It's basically a natural sealant and prevents hair from getting dry. As we get older, our hair tends to lose shine and luster, because the scalp produces less sebum (oil). Grapeseed oil infuses the hair follicles with oils, keeping hair hydrated, strong, shiny, and overall healthy looking.
If your hair lacks that sebum, it can lead to dandruff, breakage, dryness, and over time, hair loss and thinning. The fatty acids contained in the oil's linoleic acid can reduce skin and scalp inflammation. Those types of inflammations can lead to dandruff, hair loss, and other hair problems. With regular use, grapeseed oil can easily and quickly restore hair's youthful appearance, and also add shine and strength.
Grapeseed oil also contains vitamin E, which can fight against free radical damage. This is because it's packed full of antioxidants, which can reverse years of damage. Because our bodies simply don't produce enough vitamin E, it's important to get it from somewhere else, especially when it comes to the skin and hair. Vitamin E supplements, or grapeseed oil in this case, is a great way to supplement the body's vitamin E reserves.
If you're thinking of using grapeseed oil only for hair, thank again! It's also shown to do some wonderful things for the skin. Because it contains vitamin E and plenty of antioxidants, it has shown to reduce the appearance of wrinkles, fine lines, dark spots, age spots, and acne scars. Additionally, grapeseed oil is also beneficial for those with acne prone skin.
Can Grapeseed Oil Help With Hair Loss?
Grapeseed oil is known for helping those with hair loss, and this is because of the high concentration of OPCs, which stimulates hair cell production. This, in turn prevent hair loss and also encourages stronger, healthier hair to grow. Therefore, those suffering from hair loss, or even thinning or slow growing hair, can greatly benefit from grapeseed oil.
A scientific study done in Japan, looked at how OPCs from grapeseed oil promotes hair growth in mice. The mice that were treated with OPCs showed 300% more hair growth than those that weren't. This research clearly proofed that in fact, the ingredients in grapeseed oil do promote hair growth.
Grapeseed Oil for Dandruff
Because grapeseed oil contains antioxidants, it's an excellent oil to use for those with dandruff. Packed full of hydrating compounds, grapeseed oil deeply penetrates the hair shaft to moisturize dry hair and scalp, and also encourage sebum production. Dandruff is produced when the scalp is dry and itchy, but grapeseed oil can reduce the dryness and heal a dry, itchy scalp in an efficient and natural way. Grapeseed oil also helps to exfoliate the scalp, getting rid of dead skin cells that may have accumulated.
How to Use Grapeseed Oil For Hair
Using grapeseed oil for hair is actually pretty easy! Simply heat up a couple of tablespoons in a microwave safe dish. Only heat for 10-15 seconds – you don't want the oil to burn your scalp, you simply want the oil to be warm so that it can better penetrate the hair follicles. Massage the warm grapeseed oil into the scalp in slow circular motions. Do this for a couple of minutes to improve blood circulation. Then, spread the oil onto the rest of the hair. For best results, wrap hair with a warm towel and leave on for at least 30 minutes. You can even leave the grapeseed oil in overnight, and wash out with a sulfate free shampoo the next day. Follow up with your favorite conditioner. Use 2-3 times a week for best results.
Because grapeseed oil is lightweight and non-greasy, those with thicker hair can even get away with just leaving the oil in. For those with thin, oily hair, the addition of grapeseed oil may not work as a leave-in option. You can even use the oil to give hair a little bit of shine and texture! Remember, a little goes a long way, so only use a very small amount and build up from there if need be.
Who Should Use Grapeseed Oil?
Grapseed oil is highly revered by the natural hair community, so those with natural and/or curly hair can greatly benefit from grapeseed oil. This is because natural and curly hair tends to be on the dry side, and grapeseed oil infuses the hair shaft with much needed moisture and also adds shine, but without weighing the hair down or making it greasy.
Those suffering from hair loss and/or thinning hair should also use grapeseed oil on a regular basis. The compounds in grapeseed oil can prevent further hair loss and also strengthen weak, damaged, and breaking hair. Use 2-3 times a week by massaging the warmed oil into the scalp.
Why Is Grapeseed Oil Better Than Other Oils?
There are literally hundreds of different oils you can use for hundreds of different hair problems. Coconut oil, for example, is very hydrating, but it can be especially heavy, and will therefore weigh hair down and make it look greasy. Jojoba oil is lighter, and often used in homemade hair masks, but it doesn't penetrate the hair's cortex, which means it doesn't hydrate as well as grapeseed oil. Grapeseed oil is great for all hair types, on the other hand. It is lightweight, it penetrates well, and it is proven to get rid of dandruff, prevent hair loss, and promote hair growth.
Grapeseed Oil Hair Recipe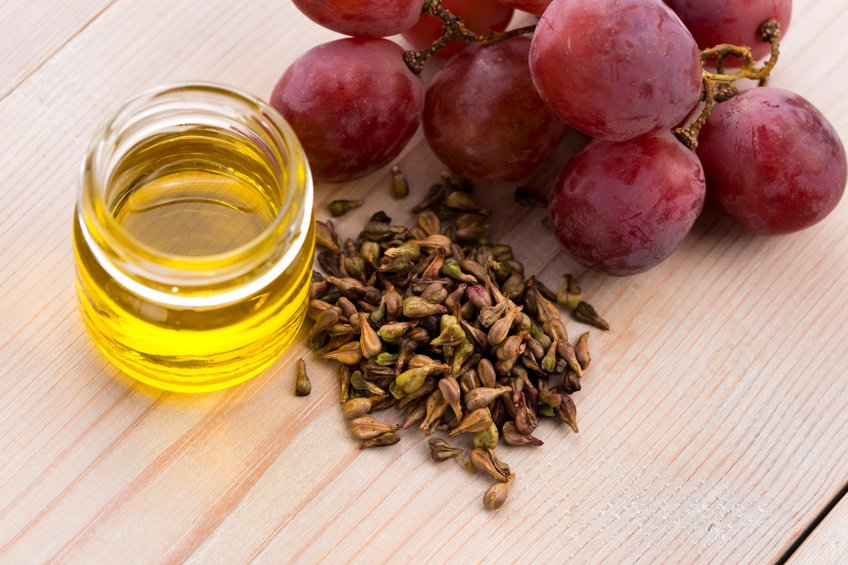 Print Recipe
Grapeseed Oil Hair Mask for Hair Growth, Hair Loss, and Dandruff
Use this quick and easy grapeseed oil hair mask 2-3 times a week to prevent hair loss and thinning, strengthen hair, encourage growth, and stop dandruff in its tracks!
Instructions
In a microwave safe bowl, heat 2-3 tbsp of grapeseed oil for a few seconds.

The oil should be just warm, and not hot.

Pour the oil directly onto the scalp and use your fingers to massage the scalp in slow, circular motions.

Spread the oil to the rest of the hair, making sure to get the ends.

Wrap the hair in a warm towel (optional) and leave oil in for at least 30 minutes.

For best results, leave oil in overnight.

Wash out with warm water, and follow up with a sulfate free shampoo and conditioner.
Video