Trying hard to get that salon perfect blow out? The secret lies in a good quality hair dryer! You can purchase the best hair serums, creams, and styling tools, but if your hair dryer is sub-par, your blow out just won't stand a chance! Thankfully, we've compiled a list of the best hair dryers of 2019, all ranging in different price points and all of them, with hundreds or thousands of amazing reviews!
These favorite hair dryers are actually great for all hair types! We often get asked "what is the best kind of hair dryer for my hair type?" and the answer is…all hair dryers work on all hair types. After all, they do just one specific job – dry hair! So what is the difference between hair dryers then?
Hair experts all agree that the best hair dryer is one that has a number of different attachments, such as a diffuser and a concentrator (more on that below!). Additionally, a good hair dryer should also have different heat setting such as high, low, and cool (cool shot button), as well as different speed settings. Those with fine hair, for example, should only use low heat and finish off with cool which locks in the style by closing up the hair cuticles. This can also prevent heat damage.
What is a diffuser and what is a concentrator? A diffuser is often used for curly and wavy hair as it circulates the air to the ends of the hair all the while diffusing the air from the hair dryer to prevent frizz. This also helps to add volume and define curls.
A concentrator does the opposite thing: it narrows the airflow to blow air directly onto hair for a frizz-free, smooth style. There are different types of concentrators from broad nozzles, which are great for thicker and longer hair, as well as short, narrow concentrators which provide a sleek blowout to curly and frizzy hair.
So now that we've caught up on all the hair dryer terminology, it's time to take a look at the best hair dryers of 2019!
Top 15 Best Hair Dryers of 2019
Best For: Everything & a Good Splurge! – Over 500 Amazon Reviews

Ok, so this may not be in everyone's price range, but this Dyson Supersonic Hair Dryer is actually worth every penny and does not disappoint. Although it has a hefty price tag of $400, it has a digital V9 motor that spins up to 11,000 RPM with a microprocessor that monitors the air temperature 20 times per second. But what does this mean exactly? Super fast dry time with zero damage. So if you think about it, although it IS very pricey, isn't your time and your hair worth it?
Pros: Fast dry time, minimal damage, and magnetic attachments (diffuser and concentrator). Plus, it looks ridiculously cool and futuristic!
Cons: Very high price tag
Best Value! – Over 2,000 Amazon Reviews!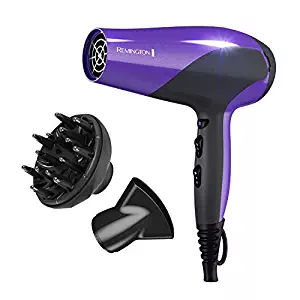 At just under $20, the Remington Hair Dryer gives you bang for your buck! Extremely affordable, but also Amazon's top selling hair dryer with over 2,000 reviews! And 2,000 people can't be wrong, can they? The dryer comes with two attachments, (a diffuser and a concentrator), 3 heat settings, and two speeds. Also features ionic, ceramic, and tourmaline technology that you'd see in higher end dryers.
Pros: Excellent price point, attachments included, fast dry time.
Cons: Not the best for those with thick hair
Least damaging & least noisy! – 57 Amazon Reviews!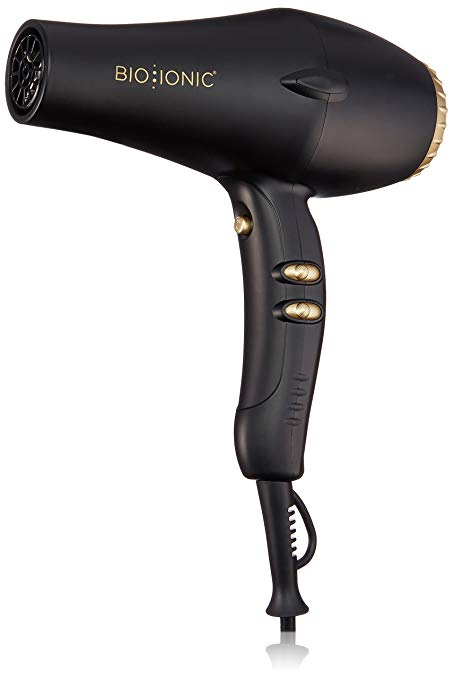 Looking for a hair dryer that won't damage your precious locks? Look no more because the Bio Ionic Goldpro dryer has a barrel made of 24k gold. How exactly does that help your hair, you ask? The gold actually helps to distribute the heat more evenly than regular hair dryers, so it actually dries hair quicker and more efficiently, without the damage. If you're looking for a salon quality hair dryer, the Bio Ionic is the way to go!
Pros: Salon quality results, attachments, different heat settings, and minimal hair damage. Also, the least noisy of all hair dryers!
Cons: Tends to feel a little heavy after a while.
Super lightweight! – Over 3,000 Amazon Reviews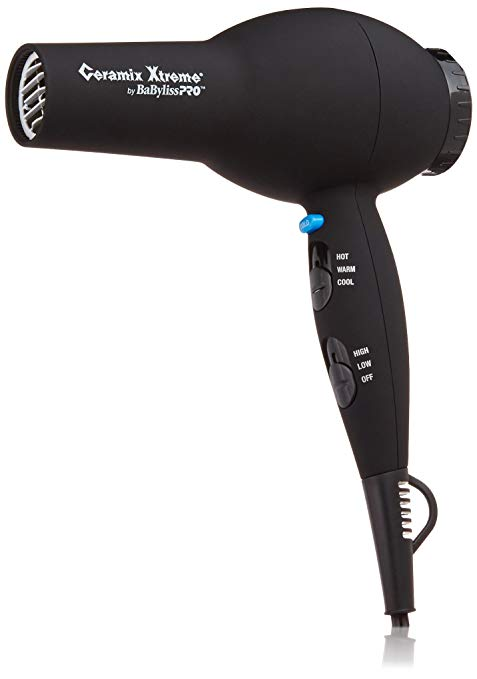 This 2000 watt ceramic hair dryer will not only dry your hair super fast, but will have you looking like you just stepped out of the salon! With over 3,000 Amazon reviews, the BabylissPro dryer is definitely a cult favorite! Comes with 6 heat/speed settings, and two attachments.
Pros: Lightweight and salon quality results.
Cons: Handle can get very hot at times.
Salon quality hair dryer brush – Over 8,000 Amazon Reviews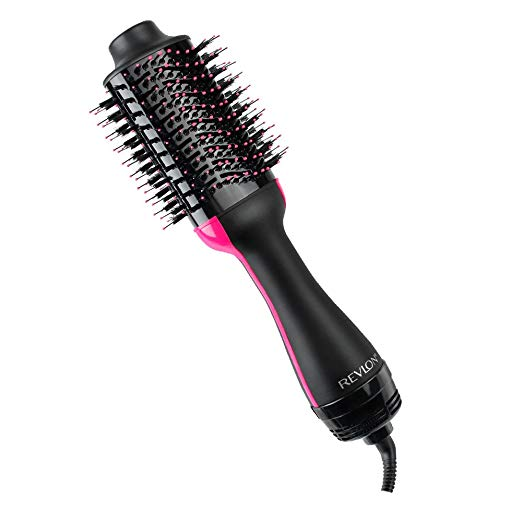 This hair dryer brush is perfect for those who don't always have the time to blow dry AND style. With over 8,000 Amazon reviews (yes you read that right!), the Revlon hair dryer is a brush and hair dryer all in one, giving your hair a smooth, sleek, and frizz free look in just minutes. It comes with 2 heat settings and 2 speeds, and even works on curly and frizzy hair. A salon quality blowout has never looked so good!
Pros: Dries hair quickly and styles all in one. Has two heat settings and two speed settings to work on all types of hair.
Cons: Does not work well on soaking wet hair. Be sure to towel dry hair well first.
Great for frizzy hair! – Over 60 Amazon Reviews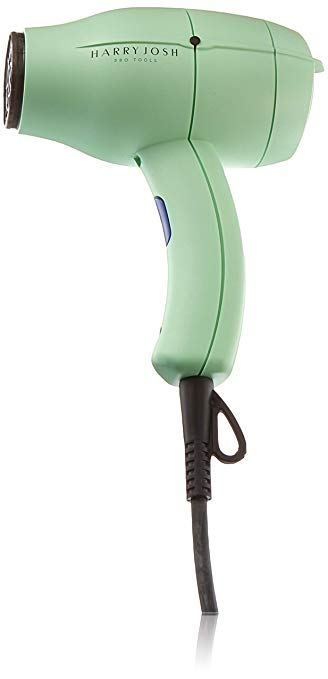 The price may not be the friendliest, but this tiny hair dryer packs a powerful punch! Perfect for those with frizzy and unruly hair, the Harry Josh Pro dryer is a favorite of many celebrities, and, if you're a beauty fanatic, you've no doubt seen it on Instagram. That's because this hair dryer is lightweight, gives a great blowout, and minimizes frizz like no other!
Pros: Lightweight, reduces frizz, and adds shine. Comes with 2 concentrators.
Cons: Hefty price tag and diffuser is sold separately.
Super quiet and quick drying – Over 400 Amazon Reviews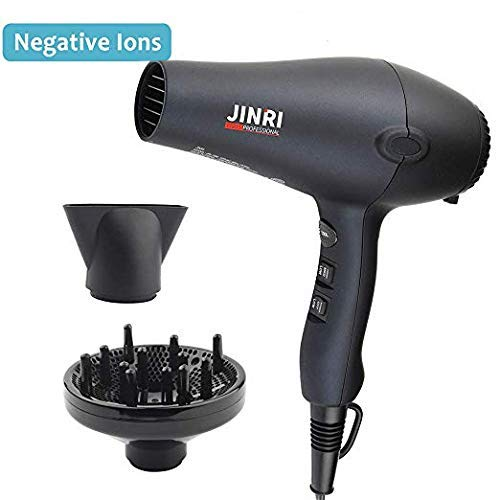 This inexpensive hair dryer is a favorite of many because it comes with three different attachments: a diffuser, a concentrator, and a and a straightening comb. It has three heat settings and two speed settings, and is also one of the quietest hair dryers. Best of all, it uses infrared heat and negative ions which is great for frizzy hair.
Pros: Lots of attachments, very quiet, and perfect for frizzy and damaged hair.
Cons: According to some reviews, it is not as powerful as they had hoped.
Fastest drying time – Over 50 Amazon Reviews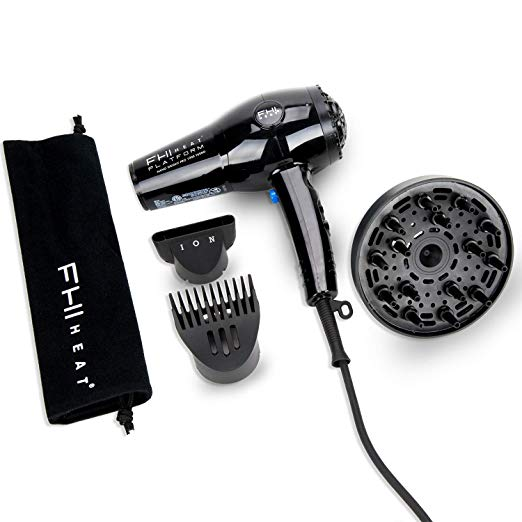 The FHI 1900 Turbo Hair Dryer tested as the fastest dryer, so if you're always in a rush or on the go, this is the dryer for you! Additionally, it also comes with three attachments: a nozzle, a diffuser, and a straightening comb to suit all hair types. The hair dryer also has two speeds and three heat settings.
Pros: Super fast drying time and three attachments.
Cons: Dryer can get very hot.
Lowest price point & best for travel – Over 1,000 Amazon Reviews!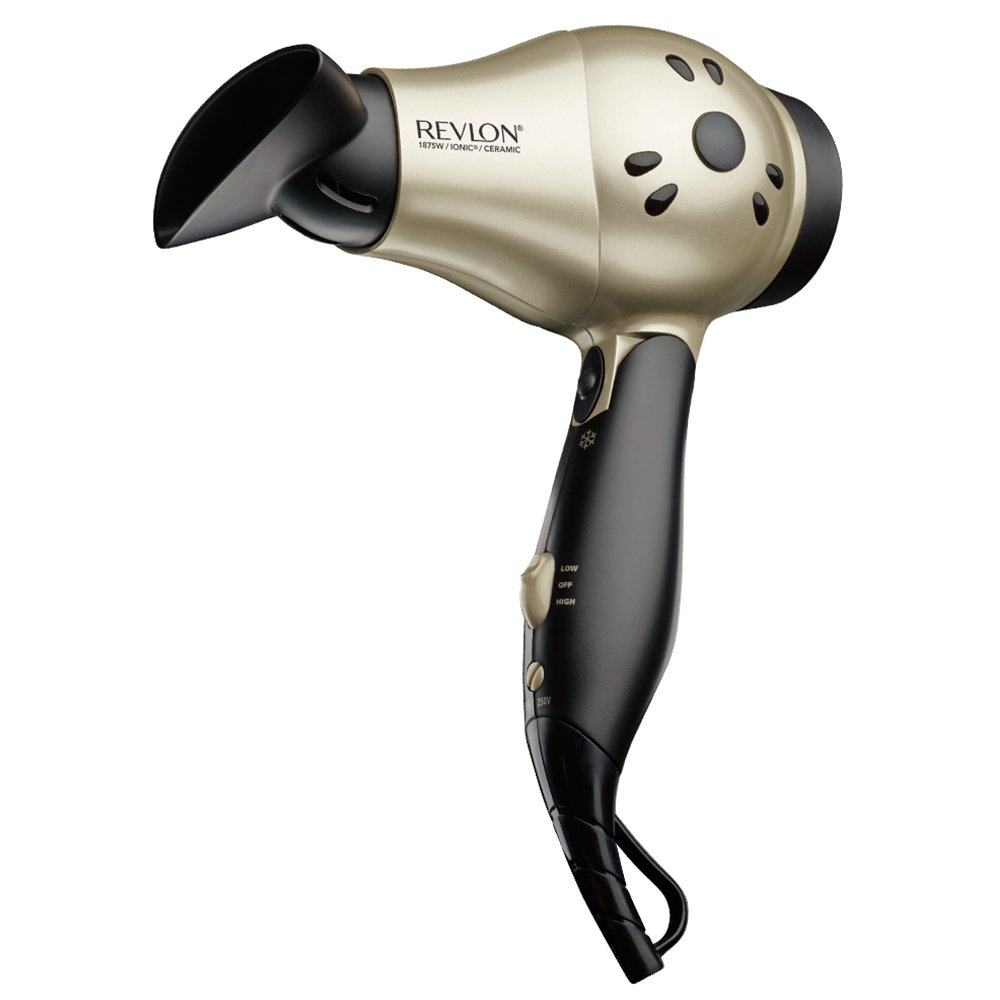 At under $12, you seriously can't go wrong with this pint-sized hair dryer that's perfect for those on the go! With ionic technology and 3X ceramic coating, this small hair dryer protects hair from damage and reduces even the frizziest of hair. It's already small, but the handle also folds up so it will barely take up any space at all!
Pros: Small, lightweight, and comes with 1 concentrator. Comes with dual voltage so you can use it in any country!
Cons: Not meant for everyday blow drying.
Fast drying and frizz reducing – Over 200 Amazon Reviews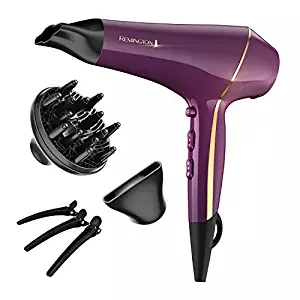 Great air pressure, speedy drying, and a great price tag makes this one of the favorite hair dryers! This inexpensive hair dryer does everything you want it to, and also comes with two attachments (a diffuser and a concentrator), plus 3 heat settings and 2 speed settings.
Pros: Very quick drying and great price.
Cons: Heavy and loud.
Adds shine and reduces frizz – Over 2,000 Amazon Reviews!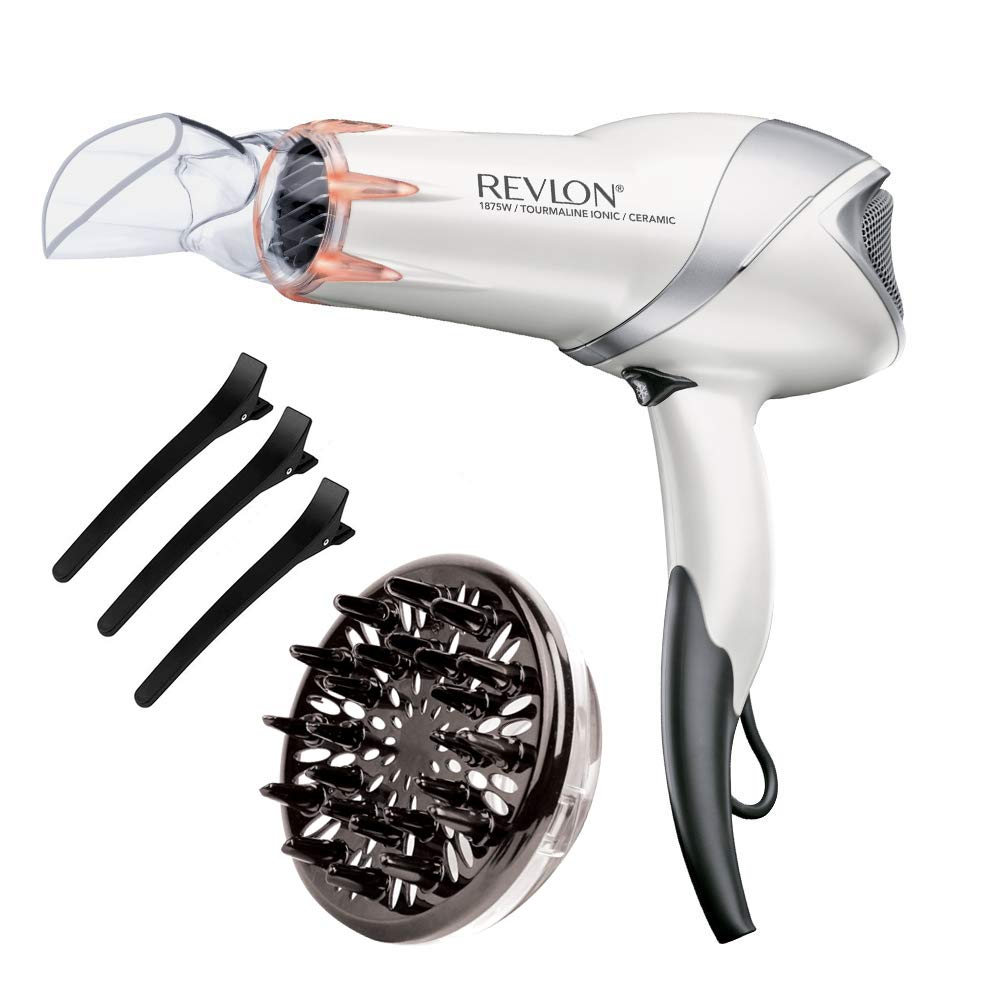 At this price point, who can complain? This Revlon hair dryer comes equipped with infrared heating technology so you can achieve maximum shine, softness, and reduce frizz all in one. Comes with a diffusser, concentrator, and 3 bonus hair sectioning clips.
Pros: Excellent price and frizz reducing.
Cons: Not the best quality – may not last long!
Salon quality blowouts – Over 100 Amazon Reviews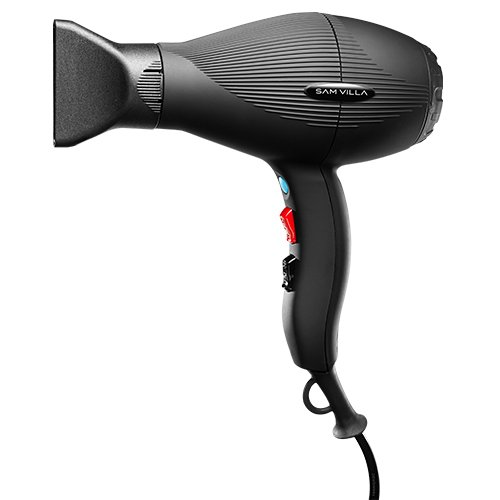 It's not the cheapest hair dryer in the bunch, but we promise that you'll fall in love with with easy to hold, lightweight professional hair dryer. In fact, this particular hair dryer is used in many salons across the country, making it a fan favorite for at-home blowouts and professional blowouts alike!
Pros: Very lightweight and quiet.
Cons: Pricey, but oh-so-worth it!
Great for frizzy hair – Over 100 Amazon Reviews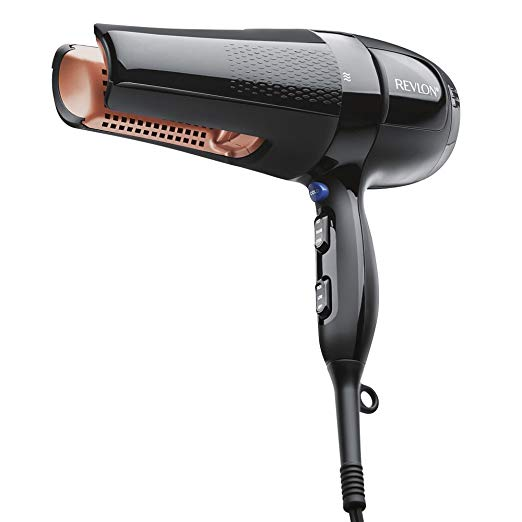 A super futuristic looking hair dryer at this price point? You better believe it! The Revlon 360 Surround Dryer is composed of a barrel that opens so you can dry your hair vertically, the same way you would feed your hair through a straightening iron!
Pros: Quick drying and frizz free blowouts.
Cons: Takes some getting used to.
Salon quality blowouts and bright color – Over 28 Amazon Reviews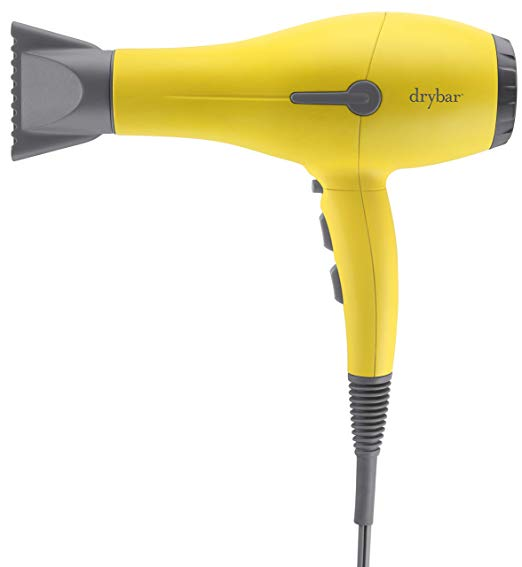 When you can't afford to go to a dry bar every week, you opt for this DryBar Buttercup Blow Dryer which is the exact same one they use at DryBar! This amazing hair dryer will give you the blowout of your dreams without breaking the bank! Comes with 2 attachments, 3 heat settings, and 2 speed settings.
Pros: Lightweight, reduces frizz, and comes with attachments.
Cons: Expensive
Cult favorite and with touchscreen – Over 30 Amazon Reviews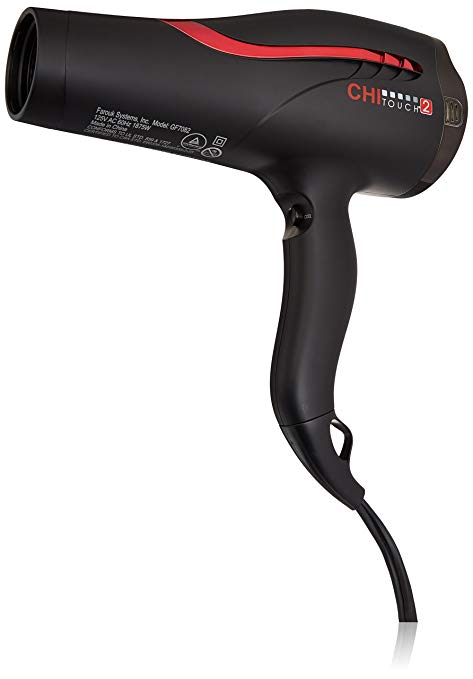 If you really wanna be impressed by a hair dryer, then this is it! We all know CHI's cult favorite flat irons, but their hair dryers are also pretty impressive! The CHI Touch 2 dryer has a touchscreen that allows you to control the temperature and the speed, and leaves hair silky soft and manageable.
Pros: Touchscreen capability, salon quality blowout.
Cons: Some found it difficult to use.
Have a favorite hair dryer that you wanna tell us about? Leave a comment below, and don't forget to Pin and share 🙂