If you're looking for the perfect green juice, this fat burning green smoothie will make you feel and look like a million bucks! Packed full of nutritious, fat burning fruits and veggies, the fat burning green juice is also incredibly delicious and won't break the bank! The only thing you will need though is a juicer, and although they're not the cheapest things, they WILL change your life!
Fat Burning Green Juice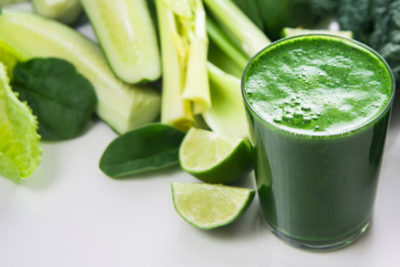 Ingredients:
3 green apples
1 cucumber
4-5 leaves of kale OR 2 handfuls of spinach
1/4 lemon or lime
1/2 inch ginger root
Directions:
Throw all of the above ingredients in a juicer and juice away!
Pour into a clean glass and drink immediately.
Freshly made juices should ALWAYS be drunk right after being made or within 30 minutes, or else the juice will loose its freshness and some minerals.
Benefits of Fat Burning Green Juice:
Helps with digestion
Burns fat
Provides energy
Suppresses appetite
Clears skin
Improves the look of nails and hair
Good for the gut
Provides body with vitamins and minerals
Detoxifies body, skin, hair and nails
Drink this juice every day or 3 times a week for optimal health and weight loss!
Like this post? Share and Pin 🙂