Today we'll show you 8 makeup tricks for a slimmer face! If for whatever reason, you believe your face is too "round" or chubby, and you'd like a slimmer look, makeup can definitely do that! Think of your face as an art canvas: you can pretty much do anything! And no, you don't have to be a makeup guru to achieve this! These are simple makeup tricks that'll have you looking fab in no time!
Makeup Tricks to get a Slimmer Face
#1. Darker Colors Are Slimming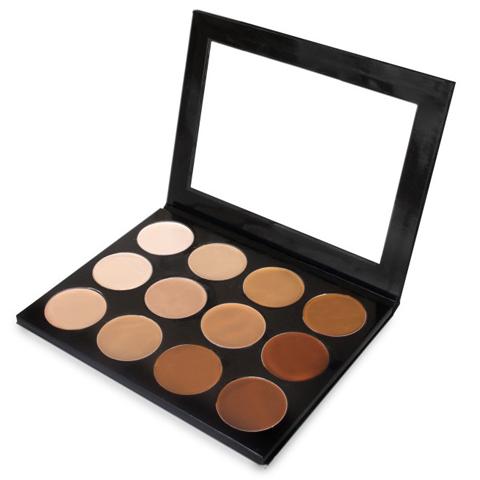 Just like with clothing, darker colors are slimming! Dark shades recede, while light shades bring features forward! Think about investing in a contouring kit or a bronzer to slim certain features. Always choose a cream or powder that is two shades darker than your skin tone and a highlighter that's one shade lighter than your skintone.
#2. Create an Illusion
To create the illusion of slimmer cheeks, apply your contour shade (above) in a diagonal line from the center of your cheek up towards the ear. Make a pucker face aka fish face while you're doing this, so that you can perfectly find the placement. Don't forget to blend really well! Also, the higher you place your contour shade, the sharper your cheekbones will look. Finish it off by applying a highlighter across the top of your cheekbones to bring out the contour.
#3. Fake a Thinner Nose
To fake a thinner nose, apply your contour shade down the sides of the bridge of your nose, stopping right before the nostrils. Apply a small amount of highlighter down the bridge of your nose to finish it off.
#4. Define the Jaw Area
Most people are looking to get the jaw area thinner, so apply your contour shade or a bronzer along the jawline and blend well. This will give the illusion of an overall slimmer face and jaw area. No double chin here!
#5. Go Big on the Eyes
To draw attention away from a full face, emphasize the eyes by making them look bigger. Click here to learn how to make small eyes look bigger.
#6. Choose the Right Brow Shape
Choosing the right brow shape is crucial to any face shape, but if you want a slimmer looking face, a high arched brow will always do the trick! Visit your salon to get this done and you'll see a huge difference!
#7. Strobe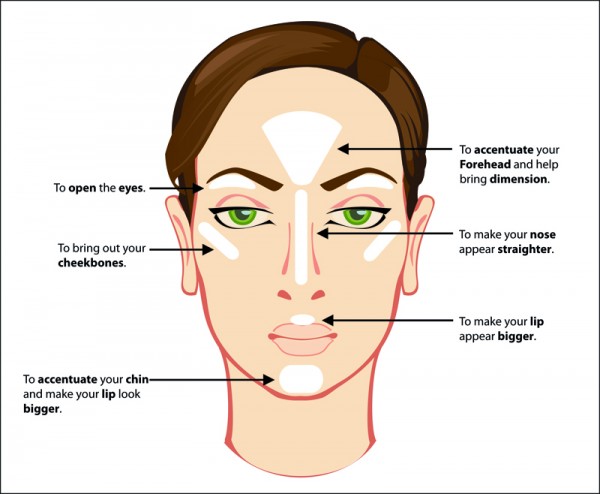 What is strobing? Strobing is a trick used to highlight the entire face. This will bring the face forward, giving it a slimmer look. Apply highlighter at the center of your forehead, your brow bone, down the bridge of your nose, the middle of your chin, your cheekbones, and your cupid's bow.
#8. The Forehead
The forehead is where it all ends! Don't forget to blend your contour shade upwards into your temples and around the hairline. This will emphasize the angular qualities of your bone structure.
If you enjoyed this post, don't forget to share 🙂
Before and after image source: Lipstickalley