Is orange the new red? If you've seen any of the NYFW shows, you've undoubtedly noticed the bold, orange lip colors that graced the runways. Last year, we saw a lot of red, but this year designers turned it up a notch and opted for hot, fiery orange hues. So what do we think of orange being the new red?
Is Orange the New Red?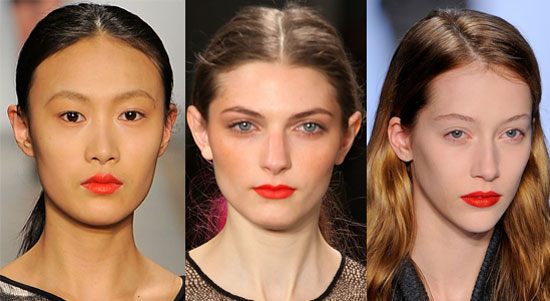 From sunset orange to dark orange, all the shades were there. What I really like about these orange hues is the brightness they bring. But, if you choose to go with an orange-hued lipstick, make sure it is suited for your shade. For fairer complexions, go with a soft, orange hue, and for darker complexions you can opt for darker orange shades.
Just remember that when wearing such a statement-making shade, you should also play your eyes down, and stick to simple and plain makeup.
Although orange has never really been at the forefront of makeup, it IS refreshing to see a hue we've never really seen before! Unfortunately, it may be just a fad! Orange doesn't really compliment many skin tones, and therefore won't be flying off the shelves any time soon!
If you liked this post, don't forget to share 🙂