There's been so much talk about Lady Gaga's new Viva Glam lipstick from MAC, that I just couldn't resist and pick one up myself! Gaga, along with Cindy Lauper, developed their own colors for MAC's Viva Glam, and I must say I was impressed.
MAC Viva Glam Lipstick: Lady Gaga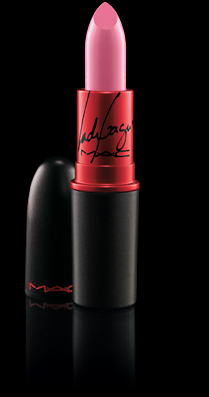 Now I didn't get the Cindy Lauper lipstick, just because it was a little too bright and red for me, but I'm sure it would look good on a lot of people if you can pull it off. I tend to stick to pink, peach and oranges as I feel red is just too dramatic on me, but I would definitely recommend you take a look at it, as it's actually a beautiful color.
Now on with the Gaga lipstick! If you're a fan of Lady Gaga, you'll definitely love the Gaga signed packaging and the super awesome pink shade! At first, I really didn't think this color was very wearable, but after trying it on I fell in love with it. It goes on very smooth and creamy, but unfortunately, like most lipsticks, it didn't really have staying power.
This shade of pink can be worn either during the day or at night. During the day, I suggest you only put a little bit on, as it is quite strong, but at night, you should definitely go all out. Also, keep the rest of your makeup simple because it's a pretty dramatic pink. All in all, I give the Lady Gaga lipstick a thumbs up, so make sure to check it out!
If you liked this post, don't forget to share 🙂