These 10 makeup products for beginners are the epitome of simple, easy to use makeup that ANYONE can use. So if you suck at makeup, or you're just beginning to get into it, these makeup products for beginners are made just for you! You can find most of these at your local beauty department, drug store, or online. I love all of these because they really teach you HOW to use makeup and it's always fool proof every single time! So if you've got a teenager in the house that's just about to learn how to apply makeup OR you're just not very good at it, check out these makeup products as they'll be a total life changer!
10 Begginer Makeup Products
1. A Makeup Erasing Pen That Will Undo Any Mistakes
This makeup erasing pen from E.L.F. will erase any eyeliner or mascara mistakes you might have made! You can get it fr om Amazon for just $7!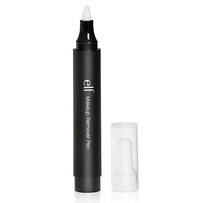 2. Eyeshadow Palette With Numbered Smokey Eyes
If you're not very good at achieving the smokey eye, Covergirl's Eyehancers will help you! Each color is numbered so you know exactly where to apply it and how to apply it! Genius and only $5.99!
3. A Mini Sponge That Goes Directly Onto Your Finger
This mini beauty blender slips right onto your finger for easy application and blending! It's called the Makeup Bullet and you can get a pack of three from Amazon for under $25.
4. Color Free Lip Liner That Will Make Your Lipstick Stay Put
This color free lipliner from Sephora will make sure your lipstick stays on all day and won't feather! Get it at Sephora for just $10!
5. Domed Brush For a Super Soft Application
Apply your makeup like makeup artists do and get a flawless, airbrushed look with this domed brush! It's called Cailyin O WOW Makeup Brush and you can get it on Amazon for $23.48.
6. Buildable Lip and Cheek Color
This buildable lip and cheek color from Physician's Formula looks amazing on all skin tones and is super easy to apply. Get it on Amazon for under $4!
7. Triple Edge Eyeliner Guide
This triple edged eyeliner guide will ensure you get the perfect line every single time. Get it on Amazon for just $16!
8. The Beauty Bible
The Bobbi Brown beauty bible will seriously make you a makeup expert, no ifs, ands, or butts about it! Get it on Amazon for $13.99.
9. Beginner Friendly Contour Sticks
These contour sticks from Smashbox will teach you how to contour, apply bronzer, AND highlighter all with a handy guide! Get it on Amazon for $35.
10. Setting Spray
If you have trouble keeping your makeup on, a setting spray will always take care of that! Get it on Amazon for $7.99.
If you enjoyed this post, don't forget to share 🙂