Many people have the same problem: their eyeliner disappears after just a few hours! It's a tough one, and it's something that annoys all of us, all the time. You get ready to go out, you finish up your makeup, and 2 hours later in the bathroom stall you notice that it's gone! What gives?
What to Do if Your Eyeliner Disappears
Start by coating your eyelids with a primer, like MAC Prep and Prime Eye. This is a great product, and you just can't go wrong with any MAC products- it's my all-time favorite!
The primer will help because it will absorb the oil and create a matte base that your makeup can stick to. Just don't put it under your eyes since the delicate skin can wrinkle.
Stroke a waterproof liner on the outer rims of your eyes where your lashes grow. Since the inner rims are moist, color will vanish easily. To maximize your eyeliner's stay, top it with a shadow to set the shade.
If you still find that your eyeliner runs, try liquid eyeliner. Although it is a little trickier to use, and you need a steady hand, the results are amazing.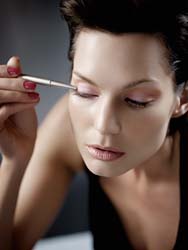 For more posts like this one, check out our Makeup Blog!
If you like this post, please share 🙂