Spring has sprung ladies and gents, and that means it's a time of renewal…a time for new spring nail colors! And what exactly does spring evoke? For us personally, it's always big, bright, beautiful colors! Lots of pretty pastels, some sparkles here and there, floral prints, and everything else in between! This spring, don't be afraid to show off your love for colors, because it's about to get bright. Check out these 14 gorgeous spring nail colors and choose your favorite!
14 Spring Nail Colors You Should Copy Right Now!
#1. Marc Jacobs Inspired Spring Nail Colors
Start off with a white polish and either use a nail stamp or nail decals to pull off these pretty nail flowers. Or, if you're feeling creative and artsy, draw your own flowers using pretty pink polish!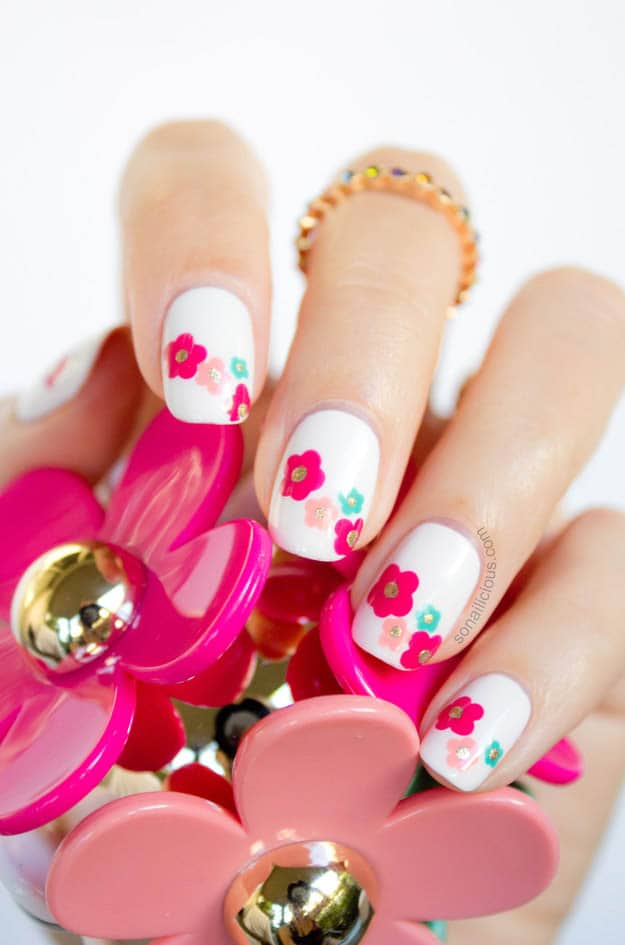 #2. Leaves and Branches Spring Nails
Although more reminiscent of autumn, this naturalistic nail design is actually super pretty! You'll need either nail decals or stamps to pull of this natural spring nail design!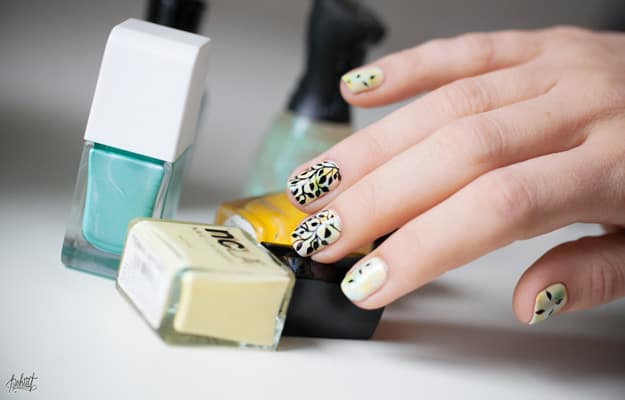 #3. Cherry Blossoms Tree Nails
Cherry blossoms are a sign of spring, and these spring nail colors are just what your nails need this season! Head to your local nail salon to pull of this spring nail design!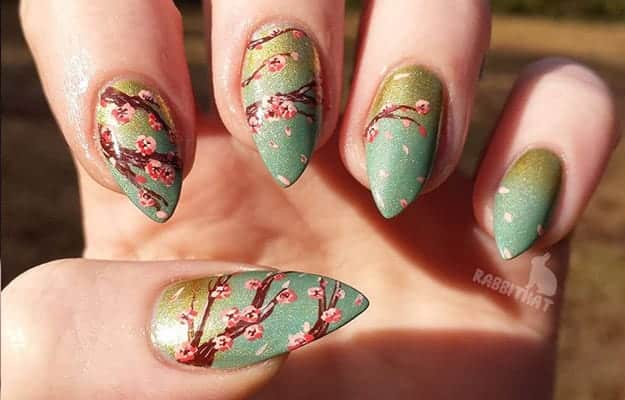 #4. Glittery Rose Nails
A great look for a wedding, these glittery rose nails use a pretty exquisite polish color that may be hard to replicate at home, but one that your local nail salon should be able to do!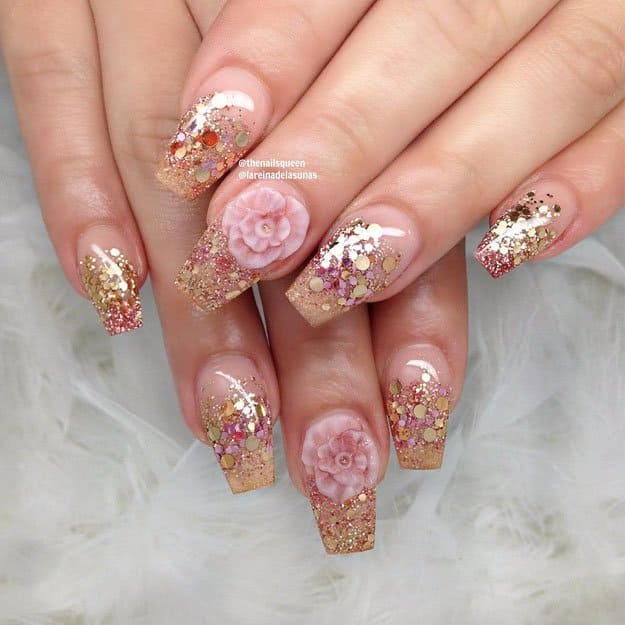 #5. Soft, Golden Flowers
Nail polish colors can be overrated, and that's why we love this simple yet super classy spring nail design!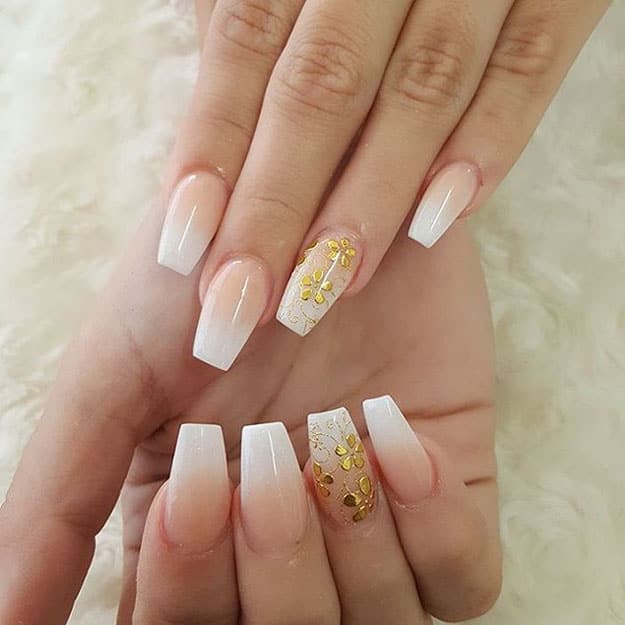 #6. Vintage Rose Nails
Vintage always makes a statement, and these vintage rose nails are no exception! This is the perfect nail design for spring and you can get creative with the nail polish colors and nail art!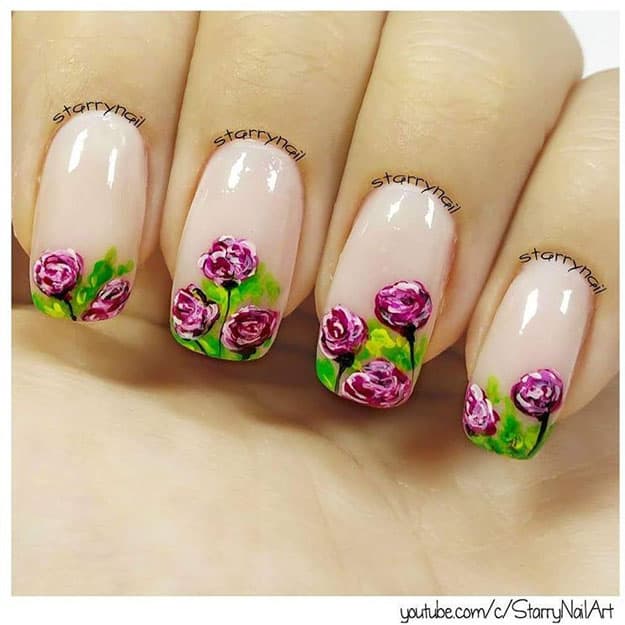 #7. Freestyle Spring Nail Colors
A simple, yet artistic spring nail design that anyone can pull off! These spring nail colors are fun to replicate and will bring out your creative side!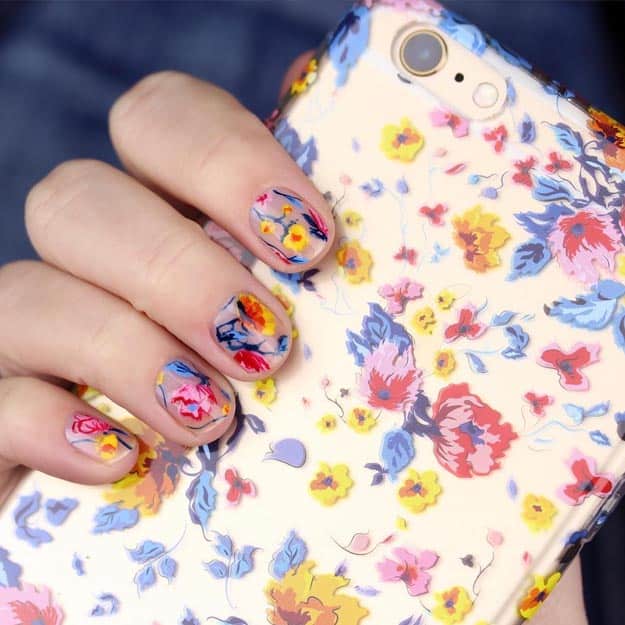 #8. Cartoon Flower Nails
Who doesn't love cartoons? These cartoon inspired nails are as fun to create as they are to wear! Be sure to apply a good quality top coat for long wear!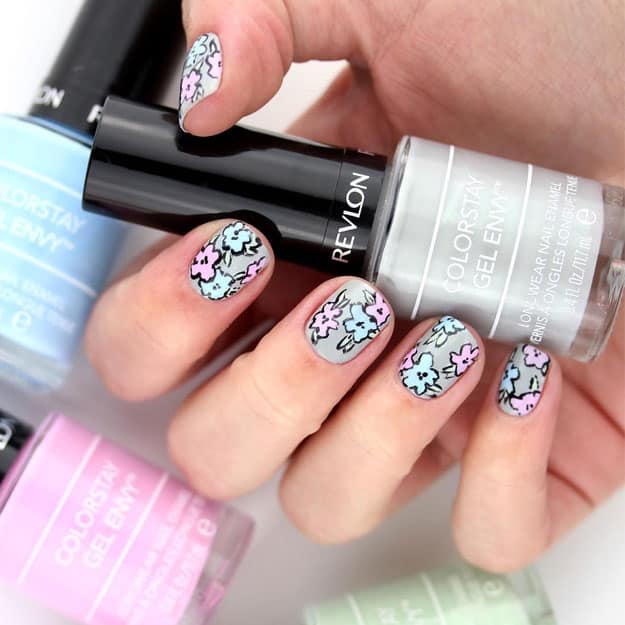 #9. Light Pink Nails
These light pink nails are precious and feminine and make the perfect spring nail design for anyone who doesn't want a high maintenance mani!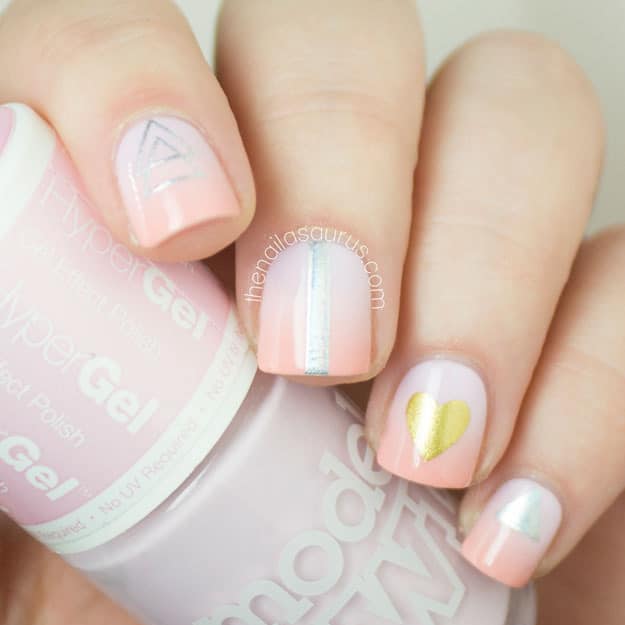 #10. Detailed Flower Nails
These pretty little flowers remind us of a field of flowers and although it may be a little hard to replicate, your local nail salon will be more than happy to recreate the nail design for you!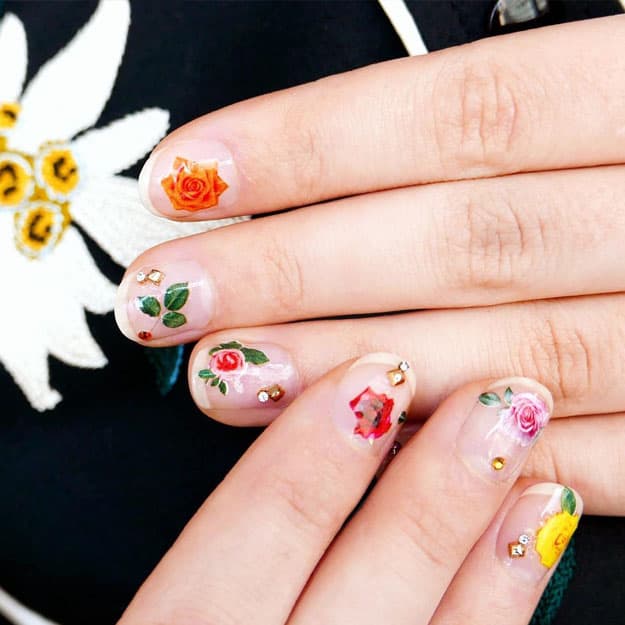 #11. Pastel Rainbow Nails
All you need to pull off these rainbow nails is a few different nail polish colors and a toothpick! Start off by painting your nails with a white polish and then dip a toothpick in a bright polish color to create swipes across the nail. Continue doing the same with 4-5 different colors.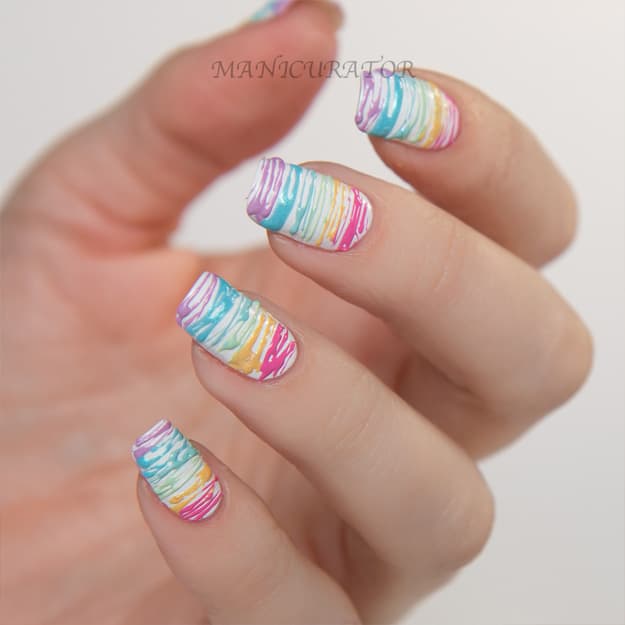 #12. Rainbow Chevron Nails
Chevron nails are super popular this season, so why not give them a little makeover with some bright colors? Use tape to replicate these spring nail colors!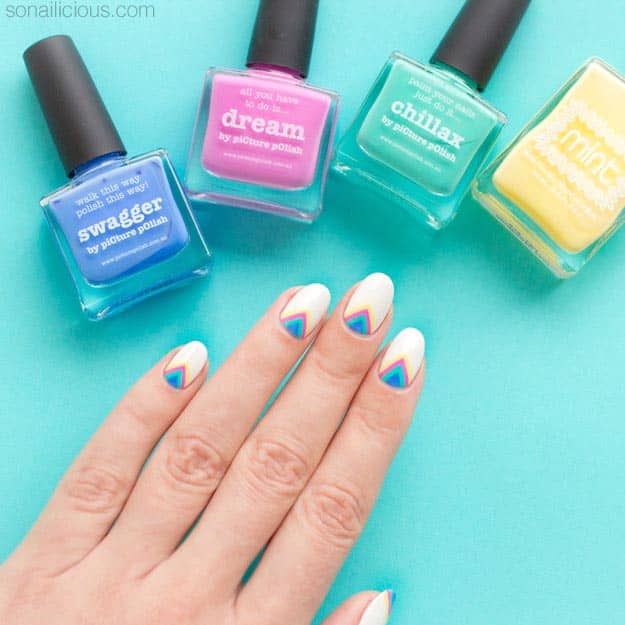 #13. Blue and Pink Chevron Nails
This matte chevron nail design is super fun to replicate and looks super clean and polished! Perfect for Easter season, spring, or summer!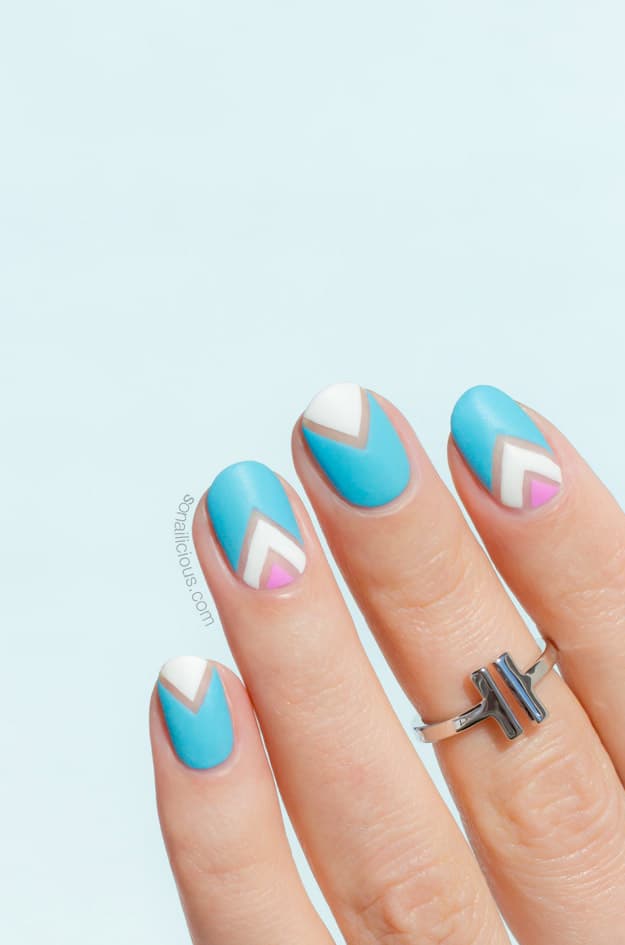 #14. Robin's Egg Nails
We've save the best for last! These Robin's egg nails are absolutely to die for! Easy to replicate: use matte pastel nail polish colors and a brown polish to speckle on top!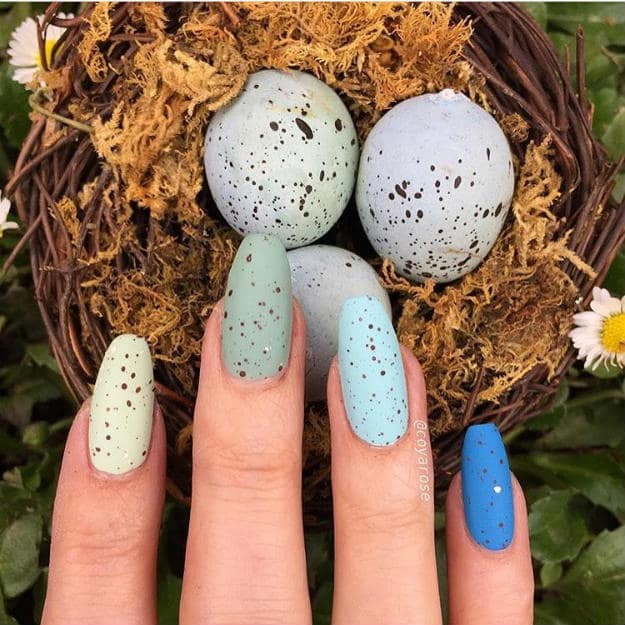 Like this post? Share, Pin, and Comment Below 🙂
Images Via: NailDesigns