Strong, unbreakable, long nails aren't all that difficult to achieve! All you need is a little bit of patience and this at home nail soak! The simple but effective ingredients used in this at home nail soak will strengthen your nails, soften cuticles, and encourage quick and healthy nail growth!
Lemon juice helps to remove dead skin cells around the nail which may inhibit growth, as well as get rid of and prevent any bacteria that may be forming. Lemons are also natural bleaching agents which means they'll help get rid of yellowness.
The garlic in this recipe has antibacterial and antimicrobial properties, but is also one of the best ingredients to use in helping with nail growth.
Olive oil is soothing and hydrating, and will moisturize dry nail beds. Olive oil also encourages healthy nails by strengthening them!
At Home Nail Soak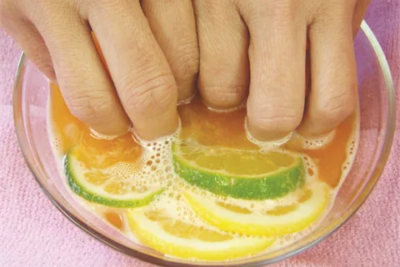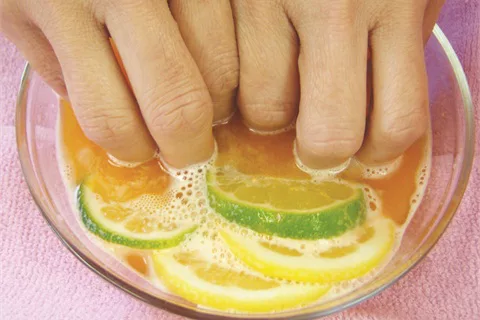 You'll Need:
1/4 cup lemon or lime juice (preferably freshly squeezed)
1 clove garlic
1/4 cup olive oil
Directions:
Chop up one garlic clove and add it to a bowl.
Next, add in the lemon or lime juice.
Stir well until all ingredients are combined.
Before dipping your fingernails in the at home nail soak, be sure to remove any nail polish.
Dip your fingernails in the soak and let them chill for about 15 minutes.
After the 15 minutes have elapsed, remove your fingernails from the soak and dry them.
Now, dips your fingernails in the olive oil for another 15 minutes.
Repeat 2-3 times a week for at least 2 weeks for best results.
Like this post? Share and Pin 🙂