If you're looking for the best hair treatment mask for damaged hair you're in luck! Dry, over-treated hair is a big beauty culprit that most of us suffer from and it's so hard to find a quick, cheap fix for parched hair. I've tried many different shampoos to treat my damaged hair, but most of them just weighed it down, especially since I have super thin strands.
Best Hair Treatment Mask For Damaged Hair
So I went out looking for some sort of hair mask/treatment that would actually work for me, but of course, I can't trust anything until I try it out. Long story short, I ended up getting a hair treatment mask called Phytokarite Ultra Nourishing Mask for Ultra Dry Hair, and was I ever glad I did. This stuff made my hair look completely healthy;  shine and softness included.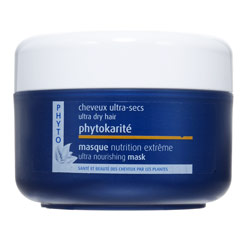 The Phytokarite Ultra Nourishing Mask is an intensive treatment mask that unfolds the damage done by hair dyes, heat, and products, by giving your hair all the nourishment it lacks. Therefore, completely reconstructing the strands bringing them back to life. And for only $38 (which I think is fair considering the amazing results I got and the fact that it'll last you plenty), you get 6.9 OZ, so get stocking!