I have heard great things about Biore Pore Perfect Warming Cleanser for a while now, but never really gave it a shot until about 3 weeks ago. Since then, I've used this product twice a day (morning and night)…so here are my thoughts on it.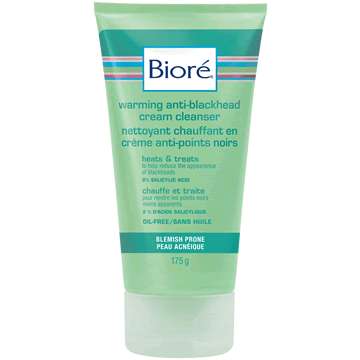 Biore Pore Perfect Warming Cleanser Product Review
The best part of Biore's Pore Perfect Warming Cleanser is the warming sensation you get when you apply it to your skin. Yes, it only lasts about two seconds, but it's very calming and relaxing, and so I love using this stuff right before bed.
The gentle beads are perfect for exfoliating and it also has a nice scent to it. Biore is usually known to cater to sensitive skin so that's why I was surprised to find that after about a week of using this product, my skin became very dry, especially on my neck and chin.
As for the blackheads part…it really didn't do much of a difference for me. I believe this product is supposed to keep blackheads away and not get rid of them – so far, I haven't had any new blackheads on my skin that I noticed. As for getting rid of blackheads or pimples, I did not notice any difference whatsoever.
I would only recommend this product for its warming sensation – it is otherwise pretty useless. Also, if you have sensitive skin like me, I would recommend that you only use this product two or three times a week as it dries up your skin very quickly.
Did you find this review helpful? If so, don't forget to share:)