Wanna score free Mario Badescu skin care samples? If you haven't yet heard of Mario Badescu Skin Care products, they're actually some of the best products you can get for your skin, especially if you're acne prone. What I like about Mario Badescu Skin Care is that they personalize the products according to your skin type. So even before you purchase anything, they'll have you fill out some questions about your skin so that they can match you up with the right products.
*Please note that the free samples are only available to those in the US.
*Some samples may require you to pay a $2.95 shipping fee.
Free Mario Badescu Samples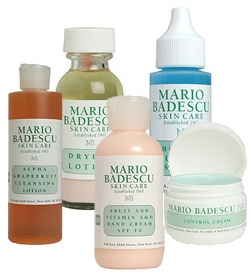 I've been a big fan of Mario Badescu not only because their products have actually worked on my skin but also because it's relatively cheap (you can get an acne cleanser for just $6). Anyways, I found a way you can actually receive a bunch of free samples from Mario Badescu…and there's nothing better than getting free stuff. So here's what you have to do.
First, go to http://www.mariobadescu.com/and click on "Skin Analysis" at the top. This online skin analysis will help you evaulate what type of skin you have. It'll ask you about whether you have dry or oily skin etc, etc. After, you'll be redirected to their recommended products  page, but just close it or continue…you don't have to buy anything! You'll then receive an e-mail with their website (just don't worry about that one), and after that e-mail, (about 2 days later), you'll receive another e-mail thanking you for filling out the survey and asking if you'd like to receive free samples. Of course you do!! Click on that, make sure your info is correct, and ta-dah! You'll receive your samples in about a week!
I got 7 free samples all targeted to my skin type and what's even better is that all the samples were actually really good size, not like the one-sheet samples you find in magazines. They'll also send you a brochure as well as a personalized product application guide so you know how to use everything and when.
Mario Badescu skin care products are honestly some of the best out there! Especially if you have oily/acne prone skin, their drying lotion is absolutely outstanding! Just apply it to any area where you have breakouts and within a day or two, it will completely disappear!
Mario Badescu Favorites: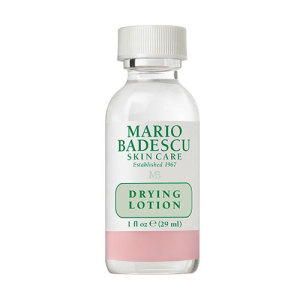 Drying Lotion: Contains salicylic acid, sulfur, and calamine to help dry up pesky pimples and breakouts overnight! This iconic and award-winning drying lotion is used by celebrities and makeup artists alike because it works so well! At only $17 a bottle, this stuff is truly magic.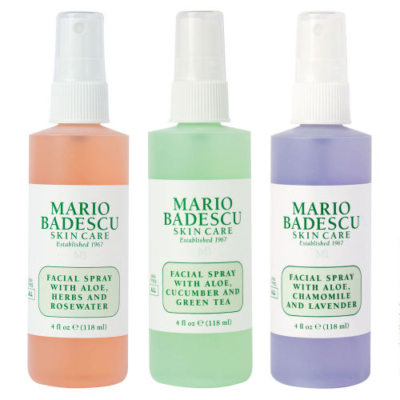 Facial Sprays: Their facial sprays are packed full of antioxidants to refresh the skin, help makeup stay on longer, and prevent breakouts. Choose from a number of different facial sprays from lavender to cucumber and aloe vera.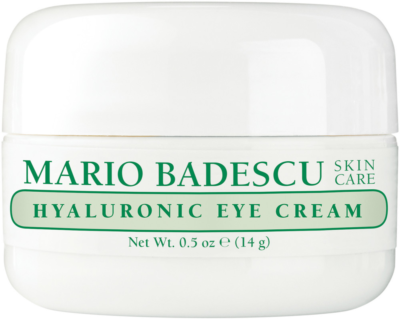 Eye Creams: Choose from Cermadie Eye Gels, Chamomile Eye Creams, Hyaluronic Eye Creams, and a slew of other eye creams that are guaranteed to add moisture and prevent signs of aging. And all under $20 too!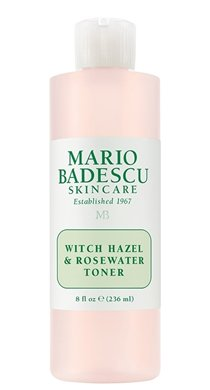 Toners: Mario Badescu has about 20 or so different toners, but by far the cult favorite is the Witch Hazel and Rosewater Toner. Witch hazel helps to clarify the skin, while rosewater leaves it with a beautiful scent. It works for all skin types including sensitive skin and acne prone skin and can be used in the morning and at night.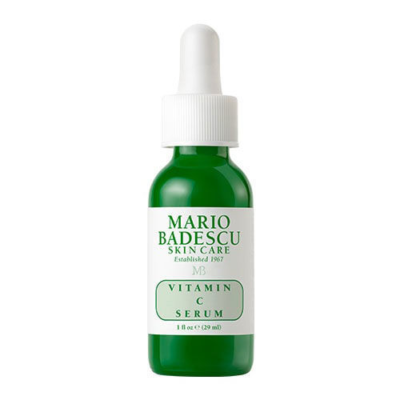 Vitamin C Serum: This radiance boosting serum smooths skin, retexturizes, prevents premature aging, and adds a beautiful glow. "Sodium Hyaluronate and Collagen combine to moisturize and smooth—revealing skin that appears luminous and glowing." – Mario Badescu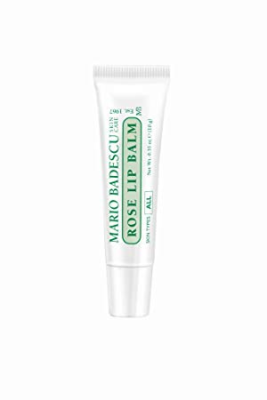 Rose Lip Balm: One of the newest additions to their line, this beautiful rose lip balm will hydrate dry, chapped lips, leaving them smooth and smelling like a bouquet or roses!
So whether you have sensitive skin, aging skin, oily skin, or combination skin, the Mario Badescu skincare line can help you with any problem you may have! We've tried and tested almost every single product, and we're definitely converted!
If you liked this post, don't forget to share 🙂