Style and music icon Gwen Stefani has captured the spirit of Japan with her five new Harajuku Lovers fragrance. Straight from the streets of Tokyo, these scents were inspired by her very own Harajuku girls that you see in her music videos. Each and every scent was custom made to match each personality.
Harajuku Lovers Fragrance
The Harajuku Lovers fragrance has five unique scents that matches your personality. Best of all, each unique scent comes in an adorable and collectible bottle that you can call your own. So weather you want just a specific scent or a different one for every day of the week, Harajuku Lovers has got you covered with the scents you love!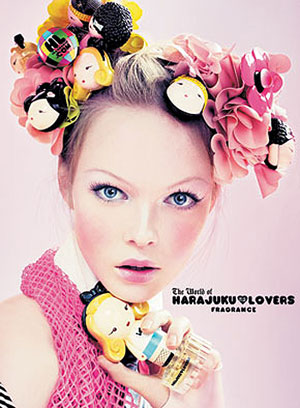 Here is a summary of what each scent represents so that you can choose which one best suits your personality!
HARAJUKU LOVERS – LOVE SCENT
If you're romantic, sweet and fresh, this is the perfect fragrance for you! Pretty as a petal, you wear your heart on your sleeve. The scent is comprised of sensuous florals; pink pomelo, lace rose, and creamy vanilla orchid.
HARAJUKU LOVERS – LIL' ANGEL SCENT
This fragrance fits all the sassy girls! The ideal pick for when you're feeling sexy, flirty, fearless and a little bit rebellious. The scent is comprised of fruity florals such as pineapple, candied violet and lollipop accord.
HARAJUKU LOVERS – MUSIC SCENT
If you're feeling tough, playful, and powerful the Music scent is perfect for you. Whether you're a music lover, a dance lover, or just an artsy type of girl, this is it! The scent is comprised of delicate florals such as sparkling pear, sweetpea, and sleek wood.
HARAJUKU LOVERS – BABY SCENT
This pretty in pink fragrance is enticing, innocent and very girly. One bat of your lashes and you'll have all the boys flock to your side! This scent is comprised of powdery musks containing white rose, orange flower and white musk.
HARAJUKU LOVERS – G SCENT
This scent was inspired after Gwen Stefani's personality and is the most popular one out there. If you're the leader of your pack and you're not afraid to try anything new, this is the scent for you! The scent is comprised of modern gourmand, fresh coconut, jasmine sambac, and cotton woods.
To see more product reviews, check out our Product Review Blog!
If you like this post, don't forget to share 🙂