So I think I finally found the perfect makeup for my problem skin while I was browsing through Shoppers Drug Mart yesterday. I'm not quite sure why I never picked this stuff up since I've heard great reviews, but maybe it had something to do with the high price tag ($30!).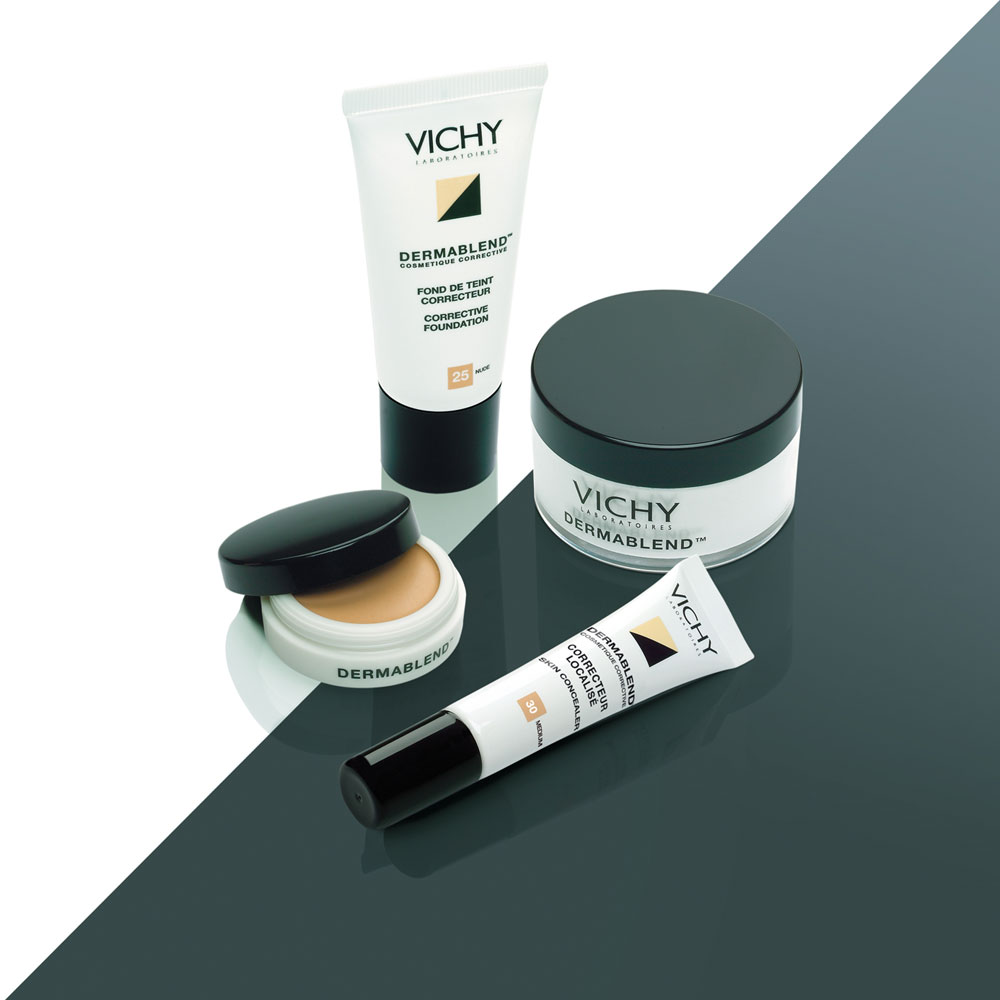 Vichy Dermablend is a line of  makeup that is specifically targeted for problem skin such as acne or redness. Dermablend promises to cover up any and all imperfections, giving a smooth, flawless look.
I've heard of Vichy Dermablend before, but I was a little scared of the $30 price tag to be honest. Last night though, I gave in and bought the Vichy Dermablend Correction Foundation in Gold (45) and the Dermablend Ultra-Corrective Foundation Cream Stick in Bronze (16), which I use as a concealer.
Now I've only been using this for a day, so I can't say that it has broken me out or anything, but I have read a ton of reviews and apparently this stuff is just a miracle in a tube! I applied the concealer on all my problem areas as well as under my eyes and it immediately covered up any imperfections and redness. I then continued with the foundation and blended it well into my skin.
My skin has never looked more flawless. I've tried hundreds of different foundations (since I am a makeup junkie after all), and nothing even compares to Vichy Dermablend. The coverage is absolutely flawless…it looks as if I don't have problem skin at all.
VICHY DERMABLEND PROS:
Excellent coverage
Hypoallergenic
Non-Comedogenic
Non-Acnegenic
Oil Free
Fragrance Free
Tested on sensitive and fragile skin
SPF 11
VICHY DERMABLEND CONS:
Expensive ($30)
A little thick and heavy
To sum this up, I would definitely recommend this to anyone with problem skin such as acne, redness, rosacea, or just sensitive skin. Again, this stuff is an absolute miracle in a tube and I don't think I'll be switching to anything else anytime soon.
Now I'm not sure if you can find this stuff anywhere else, but I am from Canada so I found it at my local drug store. If you cannot find it in your country, you can just order it online straight from Vichy.