Every since I started using insoles for my heels, I've never looked back. Before, my heels used to sit in the back of my closet and collect dust because I couldn't bring myself to wear them knowing that by the end of the night my feet would kil. But now, thanks to revolutionary inventions like the insoles, I can wear whatever shoes I want all day long!

My favorite brand is Airplus because they seem to do the job, they're very cheap, and they last a long long time. For boots and running shoes I used Airplus Coolmax Everyday Performance Insoles which are made with the original performance fabric that helps athletes push harder and longer, while bringing a cool comfort to everyday foot care. The ultimate performance insole provides excellent cushioning, breathable foam protection and an antimicrobial additive to protect against odor-causing bacteria. Get yours for just $15.99.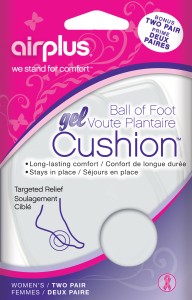 Another one of my favorite insoles is the Airplus Gel Ball of Foot Cushion for women's dress, casual or athletic shoes which are made with propietary invisigel that provides superior shock absorption, long-lasting comfort and relief of forefoot pain and discomfort. The innovative Peel % Stick technology guarantees the inserts will stay in place and go unnoticed. Get 2 pairs for just $7.99.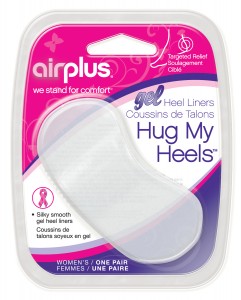 Last but not least, I use Airplus Gel Hug My Heels which are these silky smooth heel liners made with exclusive invisigel that discretely conforms to the heel area for improved shoe fit and heel cushioning. Guaranteed to stay in place and only $6.99!
You can get Airplus insoles at Shoppers Drug Mart, Pharmaprix, Zellers, London Drugs, Loblaws, etc.