Your holiday makeup in one simple palette? You know it! We all need things to make the holidays easier, and that includes our makeup. Since there's so much running around to do, baking, cooking, cleaning, etc, the last thing you have time for is spending hours to apply makeup. That's where Rimmel London comes in!
Your Holiday Makeup in One Simple Palette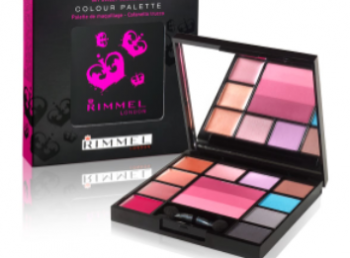 I was in Shoppers Drug Mart a few weeks ago browsing through the makeup section when I came upon a Rimmel holiday palette that looked absolutely adorable to me. Before even opening it though, the price attracted my eyes (only $11.99!!!). So what's in this stylish palette?
Pretty much everything you need for full, complete makeup for the holidays. The palette is black with Rimmel's signature pink icons. Upon opening the makeup palette, you'll notice a nice big mirror. Inside, you'll find 4 deliciously colored lipglosses, 6 very wearable all-year long eyeshadows, and a blush trio. The palette also contains brushes to help you with your application.
And did I say this palette was just $11.99? Not only does this make a great Christmas present, but for that price, you can pick one up for yourself too!
If you liked this post, don't forget to share 🙂