Skin care facials aren't just day-spa luxuries anymore. Women can now get facials at dermatologists' offices, hair salons and even gyms! Not every facial is a great experience, though. Sometimes you're left pink and splotchy; other times it just doesn't feel good ?- maybe you're not quite prepared for extractions or are put off by a too-tingly mask on your face. What is the perfect facial? It should be comfortable, relaxing and absolutely custom-tailored to suit your specific skin type and needs.
Get the Perfect Facial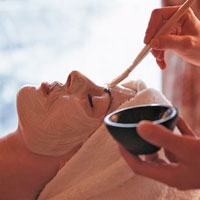 Your aesthetician should ask a lot of questions and do an analysis of your skin before touching your face.
She should describe a menu of facials and make a recommendation based on the condition of your skin. If you have a lot of blackheads, suggest a deep-cleansing facial that includes foaming cleansers, steam and extractions. If your skin is very dry and sun damaged, she might suggest an anti-aging facial that features thick, rich emulsions and products that contain antioxidants such as vitamins C and E.
Know your skin type. Is your skin dry? Dehydrated? Oily? Are you sensitive to products? Do you get breakouts? All this information will help the aesthetician determine the right products to work with.
Be truthful about the products you use. Your aesthetician will be able to tell a lot about your habits when she looks at your skin through a magnifying lamp, says Brandwein. But she also needs to know the specifics: Do you use glycolic acids, retinols or other drugs for your skin? Do you get peels, go for Botox injections or have other procedures done?
Be ready to talk about your lifestyle. I ask them about anything in their lives that might contribute to the look of their skin . Do you drink caffeine or soft drinks or eat a lot of sugary foods? Do you drink enough water? Use sunscreen? How much time do you spend on your skin every day?
Ask Questions
Ask questions. Your eyes will be closed and covered with gauze. Some people go with the flow under these circumstances; others like to know what's coming next. If you're one of the latter, ask the aesthetician to describe the facial you're getting in detail. At some places, for instance, after the skin analysis, a facial begins with a steady gentle stream of steam on your face. Steam softens the skin, opens the pores and stimulates circulation. The first cleanse removes makeup, debris and oil. Then comes exfoliation, or removing dead surface cells. If you're getting extractions, that follows. Otherwise, a pH-balancing toner is applied. The next part is everybody's favorite- the face, neck and scalp massage. Finally, a treatment mask based on the needs of your skin is applied. When that's removed, moisturizer, eye cream and lip balm are smoothed on.
Every facial experience should leave you feeling comfortable and pampered. And, of course, your skin should glow. If that isn't the case, don't hesitate to talk with your aesthetician about ways to improve the experience.
To get the most out of your facial ?- and best from your skin ?- commit to a good skin regimen between facials. At the very least, moisturize, and cleanse and apply sunscreen daily!
If you like this post, please share 🙂