Today we're going to talk about how to fix blotchy skin! First, it's essential to prep your skin. Makeup will only lay as smooth as the skin beneath it. There are a myriad of skin-smoothing products on the market, including at-home peels, that'll smooth away rough patches, exposing the smooth skin underneath.
How to Cover up Blotchy Skin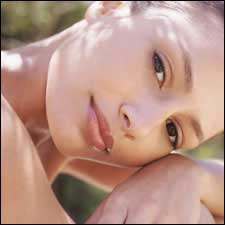 When you're shopping for foundation, choose a product based on your skin type. If you have dry skin try a moisturizing formula, and if you have oily skin, use a water-based formula.
Don't just consider your foundation's texture and consistency. Also look for what's called color saturation. When you're covering a trouble spot, you need more pigment in your foundation because it's the pigment that smooths out over the discolored skin and blends the spot away. That usually means you'll have to pay more money. Higher-end products tend to contain higher levels of pigment.
Don't put on too much product and do take your time applying it. When you add too much product to your face, that in itself creates thickness and an unnatural-looking finish. Start with less than you might be accustomed to. Apply it evenly and let it sit for 20 seconds or so. Then, if you haven't achieved the amount of coverage you're looking for, apply more product carefully and lightly over it.
If you like this post, please share 🙂