Today we'll show you how to heal your feet! During the winter months, our skin tends to dry out a little more, but the summer months aren't so great either…our skin looses moisture quickly. Our feet are especially sensitive when it comes to dry skin. They loose moisture fast and because we keep our entire weight on them, they become dull and hard too.
How to Heal Your Feet
So how can you keep your feet soft, moisturized and healthy all year long? I have finally found the best product to do just that! Olay Body Thermal Pedicure is an excellent foot treatment that not only soothes the skin but also rejuvenates it replenishes it.
This foot treatment is basically a thermal foot scrub packed with exfoliating beads and scrubbers that heats your skin on contact. There is nothing more soothing than this!
The warm solution combined with the scrubbing beads is an excellent combination of everything that your feet are asking for. Warm relief, exfoliating beads and ultimate relaxation!
I tried this product and it left my feet feeling super soft as well as relaxed. I would recommend this product to anyone who wants soft, beautiful feet, anytime!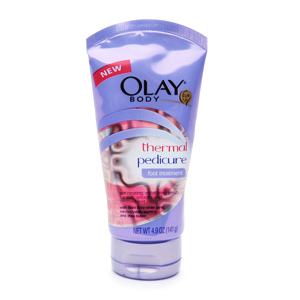 If you like this post, please share 🙂